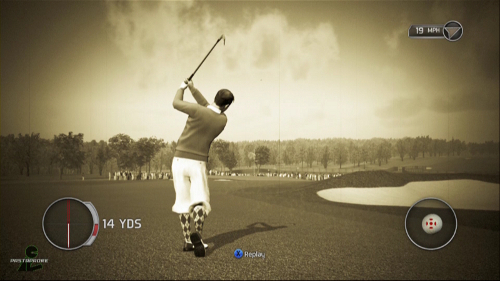 Though for the most part Tiger Woods PGA Tour 14 has been received exceedingly well there are of course a number of issues to be addressed and areas prime for improvement through post-release support. News on a server-side update and the first patch has already arrived via the official EA Sports forum for the game however no time frame to expect them has been provided as of yet. Continue on for the current list of fixes confirmed for the updates – more of which will be coming as they continue to be worked on. 
List of confirmed server side fixes
•Connected Tournament payout issues
(Fixed 3/25/2013 – To be deployed in next server deploy)
•Connected Tournament invalid score submissions winning tournaments
(Fixed 3/25/2013 – In next server deploy) This fix will prevent users from submitting a score if they disconnect in a connected tournament for more than 1 hole. You will still get the option to submit, and it will appear as if your score submitted, but when you check the leaderboard it will not have your score in it. It is a necessary evil of preventing users from glitching the system to win events. A further fix that will allow score submissions when disconnects happen during the round has been added to the patch and will make this function as designed.
•Connected Tourney total score adding newly submitted rounds to previous rounds 
(Fixed 3/25/2013 – In next server deploy) This was merely a visual issue and wasn't effecting ranking in any way.
List of confirmed patch fixes (patch release date: TBD)
•H2H online issue where players get incorrect stats
Players are receiving a DNF when they shouldn't among other stat issues. Our internal investigation that this happens when players button-mash the round exit menus. The current plan is to wipe stats when the patch is released so everyone can start fresh
•Legends of the Majors multiple part challenges not working
When playing a multiple part LOTM challenge after just having viewed demo mode from the start menu will cause you to not be able to complete multiple part challenges. Current work around, reboot and press start immediately before starting that challenge making sure not to let the game go to demo mode on the press start screen
•Analog stick used to spin when using Right Stick analog swing
The stick used for spin control has been switch back to the right stick for users that use that option to spin. This fix does not impact left stick users, as they will continue to use the left stick to spin the ball.
•Shot Preview doesn't draw the entire way on long shots
When using a shot preview on a full shot it does not draw the entire way there. This seen on any shot of ~80 yards or longer.
•Switching your hit stick to the right stick
When switching to the right stick to hit the ball, you have to use the left stick for spin direction. it has been moved to the right stick
•Restored original follow camera for putting
I've been playing with this this morning and it looks like we're good to go. Of course we will continue testing and if something changes I'll let everyone know, but this looks like it will be ok.
•Fixed the camera button from defaulting back to regular view when changing holes
When pressing the r1/rb button to change your view, the camera will not continue to hold the view you selected for the entire round.
•h2h camera no longer pull back after a shot stops 
•h2h opponent cameras now track the ball instead of staying behind the user
•Fix for some Country Club stats not tracking correctly
•Fix for Power Attribute Pin not appearing on Equip screen
•Fix for Connected Tournaments Event Select screen where 'club members on course' info is wrong
•Fix for 'next hole' stats not appearing correctly in live tournaments
•Fix for some career stats not matching front-end stats correctly
•Fix for some career stats that show incorrect information
•Fix Strike Meter to always be 'sticky' for Move players
•Fix for Loyalty Bonus timer (currently display days, will be hours)