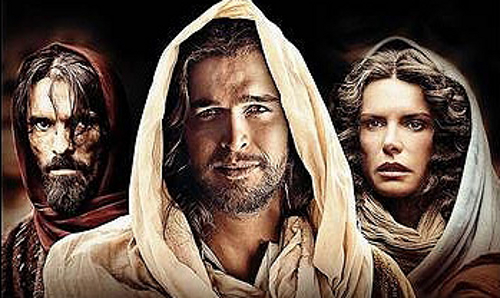 Marvel Cinematic Universe: Phase One
This limited-edition, 10-disc Marvel Cinematic Universe: Phase One Collection will allow fans to immerse themselves in every aspect of Marvel's elite Super Heroes. Complete with glowing Tesseract, this exciting collection includes stunning Blu-ray 3D and Blu-ray presentations of Marvel's The Avengers, Captain America: The First Avenger and Thor, as well as Blu-ray versions of Iron Man, Iron Man 2, and The Incredible Hulk in exclusive collectible packaging.

The Bible: The Epic Miniseries
From Executive Producers Roma Downey and Mark Burnett comes The Bible — an epic 10-part miniseries retelling stories from the Scriptures for a whole new generation. Breathtaking in scope and scale, The Bible features powerful performances, exotic locales and dazzling visual effects that breathe spectacular life into the dramatic tales of faith and courage from Genesis through Revelation. This historic television event is sure to entertain and inspire the whole family.

John Dies at the End
It's all about the Soy Sauce, a drug that promises an out-of-body experience with each hit. But some who come back are no longer human. Suddenly a silent otherworldly invasion is underway, and mankind needs a hero. What it gets instead is John and David, a pair of college dropouts who can barely hold down jobs.

The Killing: Season Two
TV's most addictive crime series returns for another season of slow-burn suspense and gripping drama. In season two, homicide detectives Sarah Linden (Emmy® nominee Mireille Enos) and Stephen Holder (Joel Kinnaman) resume their investigation into murder of a Seattle teenager, only to discover it may be part of a larger, more explosive conspiracy. As the case unfolds, it triggers shocking revelations and stunning twists that will keep you guessing until the riveting season conclusion…when the killer of Rosie Larsen will finally be revealed.

The Baytown Outlaws
After her ex-husband Carlos shoots Celeste three times in the gut, it's time to play dirty. In the fight for her godson, Rob, she hires three outlawed and redneck brothers to bring him back to her. But nothing can be that simple in the South. What begins as a small rescue mission rises to a Southern battle royale. This odd team must shoot their way through gorgeous female assassins, Native American hunters, federal agents, and a whole lot of metal coming after them, while protecting Celeste's innocent child.

The Sweeney
Armed and dangerous the Sweeney Flying Squad are London's elite crime fighting force. Led by legendary Detective Jack Regan (Ray Winstone) they are not afraid to use old school bare-knuckle tactics to bring down the modern underworld. Now with a master criminal on the loose and a major bank heist in progress Regan will do whatever it takes to get the job done even if that means defying the orders of his boss (Damian Lewis) and taking the law into his own hands.

Knuckleball!
The definitive documentary about the impossible-to-hit pitch, the knuckleball! This heartfelt, funny and deeply engaging film delves into the legendary subculture of the knuckleball and the brotherhood of men who share the drive, imagination and humility to throw baseball s slowest, most disrespected pitch. Filmed throughout the 2011 season, KNUCKLEBALL! follows 37 year-old R.A. Dickey (New York Mets and 2012 All-Star) and 18-year veteran Tim Wakefield, formerly the oldest player in the major leagues and an icon of the Boston Red Sox, detailing their personal and professional triumphs of the season while exploring the bond between them and their only allies, the five living retired knuckleballers – Charlie Hough, Wilbur Wood, Jim Bouton, Tom Candiotti, and Hall of Famer Phil Niekro. KNUCKLEBALL! is the story of these extraordinary men, and the sacrifices they made to a pitch that would come to define their lives.