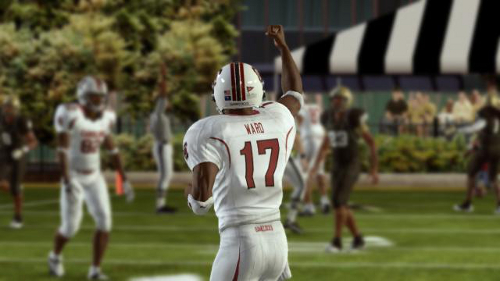 Ultimate Team mode looks to be coming to the NCAA Football series if the pre-order bonus posted by Gamestop is any indication. The listing was first noted by Operation Sports. In the past any bonuses that have gone up prior to official announcements have never been inaccurate so there is no reason to think this one isn't legitimate. Other retailers may follow with different conference bonuses soon considering how it is being offered. 

One of the reasons the NCAA Football series has taken a backseat in recent years – besides the ongoing player likeness lawsuit and declining sales numbers – is that it offered little to no digital revenue stream to offset rising development costs and take advantage of the market shift towards consumer digital spending. Ultimate Team mode will generate upwards of $200 million across FIFA, Madden and NHL for the fiscal year that just ended. Without real players though a card collection-based system would have very limited appeal.
Bringing in the players from the base rosters, presuming they are as "accurate" as they have been in past years, would only give the plaintiffs more ammunition in the lawsuit. The perception would no longer be limited to selling the game off the backs of the players but then breaking it down to each individual having certain value within a mode that is revenue driven.
Imagine those who are deemed the "key SEC players" in this Ultimate Team pack – they would easily be able to make an argument that money is being made off their respective likenesses more so than any other way in the past.
That would be a dangerous move for EA to make right now unless they've worked out a way to distribute a portion of the funds to the players in an as-of-yet announced settlement. There's also the possibility of NCAA's Ultimate Team incorporating players from the past but that would have inherent costs that make it unfeasible for them to fuel the mode on their own.