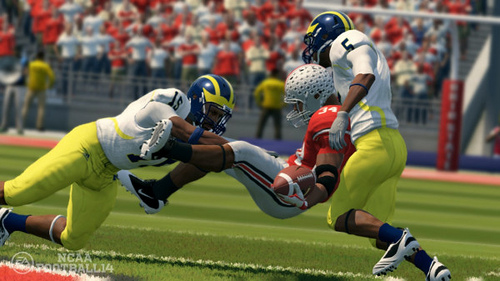 EA Sports has released a first look video at some of the improvements to expect with the gameplay engine in NCAA Football 14. That will include an improved version of the "Infinity Engine" physics that was first introduced in Madden NFL 13, and enhanced running game through the use of cuts, acceleration bursts, and new jukes.
In addition to those things highlighted in the video a strong focus on the college option game has been made. NCAA 14 will go as far as to highlight key defenders before the snap so users can read their movements in order to help make the best decision. More details on features will come for Presentation on 4/18, Ultimate Team on 5/15, Dynasty on 5/28, and Season on 6/17. Continue on for the video and leave any thoughts in the comments!
First Look at the New Gameplay Engine in NCAA Football 14 which unlocks the unpredictability and innovation of college football, bringing multiple college play-styles to life. Featuring real-time physics and enhanced running game that allows users to feel the big plays on offense and defense, with big hits, stiff-arms, include realistic hard cuts when a runner is changing direction, improved run blocking and a new acceleration burst that lets you get around the corner or through the hole and into the open field.