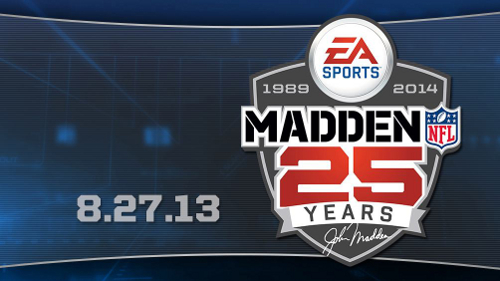 The Gaming Tailgate has come across the first pre-order promotion for Madden NFL 25. Walmart is offering an exclusive "Oakland Raiders Franchise Pack" which presumably (unless there's a new mode to reveal or ties into Connected Careers) relates to Ultimate Team.
The info comes from a Walmart in-store standee and none of the pre-order bonuses have been posted on any retailer websites yet. Based on this find then in all likelihood each retailer will offer a team pack of their own and those selected will be ones with a rich history of success, impact players, and ties to the Madden franchise throughout its now 25 years.
One has to question whether an individual team pack is going to be any sort of draw for retailers however. Raiders fans may seek out Walmart but that would surely be a small contingent to cater towards. In fact some consumers, if their favorite team isn't available as a bonus, may opt to avoid certain ones more so than pursue them. At least in the case of NCAA Football 14 the Ultimate Team packs involve entire conferences where potential interest becomes expanded.