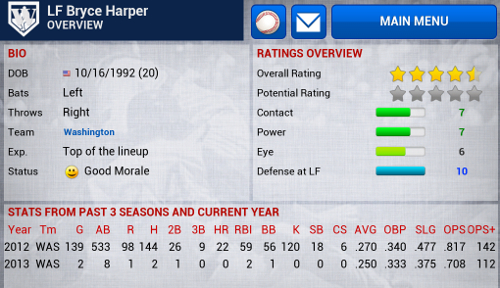 By Brendan Wilhide
Baseball fans everywhere welcomed Major League Baseball back with open arms last week. Baseball gamers welcome back yet another annual baseball tradition this week: iOOTP 2013, the latest version in the iOOTP series.
iOOTP is the iOS version of the popular OOTP (Out of the Park) series of baseball text sims for Windows and Mac. If you've ever played OOTP on your computer you already know what to expect. If not, you'll be pleasantly surprised at how much of the core OOTP experience translates to the mobile version. 
The first decision you'll make when you fire up iOOTP is whether you want to manage a real life MLB club (with Opening Day rosters), a fictitious version of MLB with the correct number of teams and rules but with a fantasy draft, or a completely fictitious league with customizable league size, game options (DH or no DH), cities and team names.
No matter the path chosen you find familiar options for anyone that has played iOOTP before or even OOTP on Windows or Mac. You set a lineup, rotation and bullpen in addition to strategies (give starters an early hook or never hit and run, for example), a disabled list and top prospects. iOOTP doesn't feature a full minor league system so top prospects exist in a player pool but get better as they age despite not playing in any games.
The absence of minor league teams is one of the few missing features in iOOTP. Trades, free agency, arbitration and the amateur draft are all here. The trading logic seems to have improved over past years and in a sample season I didn't see any trades which seemed particuarly lopsided. I even tried to trade for Bryce Harper and was shot down despite offering Carlos Santana, Francisco Lindor and another prospect. That's as it should be. More often I was offered the sort of so-so deals that MLB teams complete every season. The Michael Cuddyer for two A ball prospects at the deadline type of deals – another testament to iOOTP's immersion factor.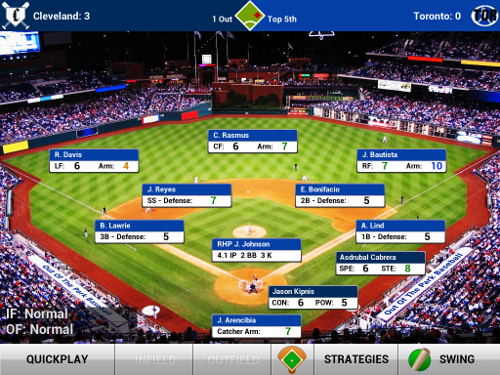 Veteran iOOTP players will recognize the overall look and feel of the app as little has changed visually from the '11 and '12 versions. The small visual tweaks are for the better, however, as box scores show more information with less scrolling than in past versions. The game's user interface is otherwise largely unchanged.
The few downsides to iOOTP have more to do with gameplay preference and are largely holdover gripes from previous years–in testing it seems like the game still generates more ace relievers than any other type of prospect and the scroll bar on the league news page doesn't always work correctly. For the most part, though, iOOTP '13 is a revision of previous years' games which has always been the story with the OOTP franchise: it builds on its strengths each year while refining the weaker parts to fit seamlessly into the overall game engine.
iOOTP Baseball 2013 is the deepest baseball sim available on iOS and arguably one of the two best sports text sims on the platform (Football Manager the other). Fans who pick up a copy will spend hours immersing themselves in their players, their strategies and their legacies as managers. iOOTP has it all: sometimes you take an undrafted free agent and turn him into a superstar and sometimes your star player goes down with a season ending injury at exactly the wrong time and your team drifts lifelessly down the standings into oblivion.
After hours of playing the game it seems that the little decisions are the ones that haunt you the most. If the goal is to think and act like a manager and GM, iOOTP succeeds. This is a must have game for baseball fans.
iOOTP 13 is available now for $5 on the iPhone, iPod touch, and iPad.
Thanks to Brendan Wilhide for the review. You can find him on Twitter @BrendanWilhide