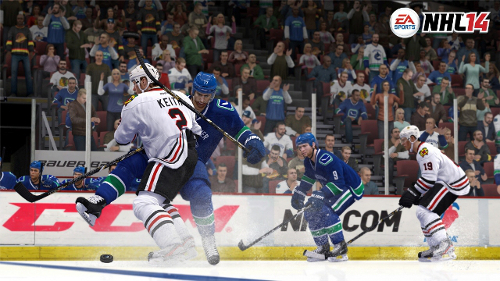 News on the upcoming NHL title has come especially early this year – about six weeks before the marketing blitz typically has begun in the past – and it isn't just some superficial details regarding NHL 14. The game will include improved collision physics, a new "Enforcer Engine" for fights, off-the-ice elements being added to Be a Pro mode, and more. Continue on to check out the trailer and the initial list of features! 
NHL Collision Physics
Developed from the same core technology that powers EA SPORTS FIFA's critically-acclaimed Player Impact Engine, NHL Collision Physics introduces bigger, more thrilling hits, and truer-to-life collisions. A new left-stick control scheme makes delivering a game-changing hit simpler and more rewarding than ever.
Enforcer Engine
There is a code in hockey, when it's broken you have to respond. A first for NHL, Fight Night technology delivers a new 3rd person experience, physics-based punch targeting and player size differentiation to every fight, creating the most authentic and electrifying experience yet.
One-Touch Dekes
Experience what it feels like to be a superstar through a new, more responsive deking system controlled only with the left stick and one-button. From beginner to advanced gamers, the system allows for quicker reactive dekes and intuitive combination dekes, creating more moves than ever before.
True Performance Skating
Built on the breakthrough innovation that introduced physics-based skating and over 1,000 new skating animations to the EA SPORTS NHL franchise. The second year of the True Performance Skating features improved acceleration, explosive first-strides, quicker pivots and enhanced lateral skating, resulting in greater player responsiveness and unprecedented control.
Live the Life
The new incarnation of the Be a Pro Career Mode, now you can truly Live the Life of an NHL player. On or off the ice, every decision you make shapes your legacy as an athlete. Interact with teammates outside of the rink. Take part in media interviews. Each choice you make will affect your relationship with fans, teammates and management, influencing your skills and progression.
EA SPORTS NHL Online Seasons
NHL 14 adds the best-in-class promotion and relegation system in the sports category to the Hockey Ultimate Team & EA SPORTS Hockey League modes. Win games and advance to the next division to face tougher competition, fall short and see your team bumped down. Teams will be able to track their progress across multiple seasons.