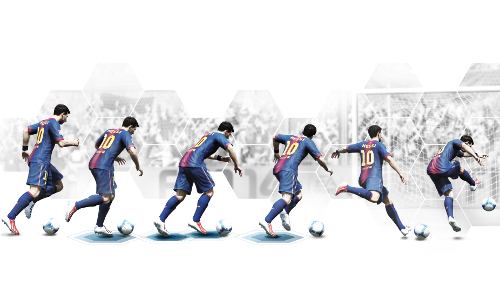 EA Sports today released the first news related to the upcoming 360, PS3, and PC versions of FIFA 14. Anything regarding the PS4 and next Xbox versions shouldn't be expected until E3 in June. "Pure Shot", "Real Ball Physics", and "Protect the Ball" are the three big enhancements coming to FIFA 14.
Also being touted at this early juncture along with them are improvements to scouting in career mode, teammate AI, ball control, and a new online mode to be announced later. Check out the first screenshots in the FB album and continue on for more on the new features including a few technical demonstration videos.
Pure Shot will let FIFA fans feel what it is like to connect with the perfect strike while a brand new ball physics system called Real Ball Physics will ensure the trajectory of the ball behaves as it would in real life. The combination of Pure Shot and Real Ball Physics will open the door for the most rewarding and varied shot selection in the FIFA franchise to date.
Pure Shot
The best goals are a combination of perfect timing, anticipation, and great positioning. Fans will be rewarded for all three in FIFA 14.  Players now adjust their approach angle when the shot is started looking for a more suitable angle for hitting the ball. They also understand the phases of shooting and will adjust their stride and pace to hit the ball. New shot types include pure strikes, as well as off-balance and rushed shots.
Real Ball Physics
Along with changes to the shooting system, the ball in FIFA 14 acts as it would in real world football, thanks to authentic ball physics based on new formulas which dictate the flight path and trajectory of a shot. Both were overhauled for FIFA 14 to match how the ball moves in space.  This opens the door to more shot options. Players will now be able to strike the ball with force from distance, drill low rising shots with accuracy, and blast dipping, or swerving shots. There are also turbulence effects. None of this was ever possible in FIFA 13. Pure Shot and Real Ball Physics are bound to make every shot attempt feel real and, when players connect with the perfect strike, exhilarating. Players will truly experience the emotion of scoring great goals.
Protect The Ball
In FIFA 14, franchise fans will dictate the tempo of a match with an all new gameplay feature: Protect the Ball. An intuitive mechanic, Protect the Ball is expected to enable players to fend off and block opponents from the ball while running at any speed. Now, when a ball carrier is being pulled while advancing, they will be able to counter this by stepping in front of the defender and using their body to shield the ball. With the ball at their feet, players will be able to step into the opposition and hold them off to maintain possession and make a pass. Protect the Ball also gives players the ability to fight for position prior to receiving the ball. Picture a striker at the top of the box waiting for an incoming ball from a midfielder; he will now be able to win that space, receive the ball with his back to the goal, and then turn defenders to create opportunities. Controlling play through midfield and staying in possession of the ball will be very important to whether or not players can dictate the tempo of a FIFA 14 match. Protect the Ball. Dominate the midfield. Dictate the tempo.
Other
Teammate Intelligence has been improved on both sides of the ball. New decision-making logic delivers tighter, smarter marking and improved run tracking where defenders recognize opportunities to provide support and win back possession, while attacking players have new ways to outsmart their opponents by creating space for themselves, running along the backline and checking their pace. Major changes to ball control add new tools to win the midfield battles. Sprint Dribble Turns enable players to turn in every direction at sprint speed while preserving momentum, delivering the control and confidence to take on defenders one-on-one. Variable Dribble Touches introduces variety on touches when sprinting. Skilled players will have better touch and more control when sprinting with the ball.
In addition to innovations to gameplay, FIFA 14 is introducing a game-changing new way to play Career Mode. The Global Scouting Network brings the world of professional scouting to life. Players now develop and refine a scouting network and search for talent year-round. Scouts can evaluate footballers all over the world to uncover the attributes and traits of every player in the game, in preparation for the transfer windows. Plus, a new hub delivers easy navigation, fewer interruptions and live scouting reports.
Online related: Changes to the wildly popular FIFA Ultimate Team, a new online Mode that will encourage social competition, multiple new features and benefits to EA SPORTS Football Club.