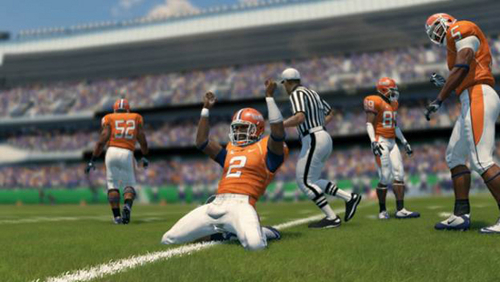 EA Sports today rolled out the first presentation-centric details for NCAA Football 14. As mentioned yesterday enhancements include a halftime show – featuring Rece Davis and David Pollack – as well as streamlined game intros, more emotion on the field such as pre-play chatter and new post-play scenes, increase in storyline discussion in the commentary, streamlined menus and navigation, and finally neutral site games. 
NEUTRAL SITE GAMES
The biggest games of the college football season require stadiums that fit their magnitude, and for the first time ever NCAA Football 14 will allow you to square off against opponents at neutral sites. For instance, start your season with LSU vs. TCU in Cowboys Stadium for the Cowboys Kickoff Classic, or Alabama vs. Virginia Tech in the Georgia Dome for the Chick-fil-A Kickoff Game. Soldier Field, MetLife Stadium and M&T Bank Stadium are also included in the game.
FASTER, LIGHTER MENUS AND PREGAMES
Get into the action faster than ever before with a menu that has a whole new look and feel. See all your options at a glance and get into a game quickly. Dynamic loading screens allow players to review injuries, note key players for the upcoming game, view offensive and defensive rankings for both teams and more, all while the game loads up.
TRUE BROADCAST FEEL
This year marks the inclusion of new broadcast elements, including the ESPN Living Game Clock that provides key stats after each play and a new halftime show featuring Rece Davis and David Pollack. Also, Brad Nessler and Kirk Herbstreit focus on impact players and provide smart analysis on key moments throughout the game.
NEW MUSIC AND CHANTS
Get pumped up with familiar stadium anthems Seven Nation Army by The White Stripes and Kernkraft 400 by Zombie Nation. Turn up the speakers and chant along with some of the most instantly recognizable and addictive songs in all of sports.