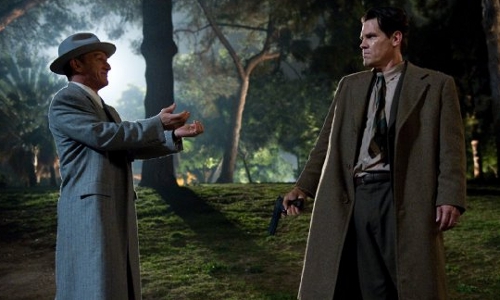 Jurassic Park 3D
This title includes a Blu-ray 3D disc which is only compatible with 3D Blu-ray players and Playstation 3. A standard Blu-ray is also included which will play on all standard Blu-ray players. Experience one of the biggest films in motion picture history with director Steven Spielberg's ultimate thrill ride Jurassic Park. Featuring Academy Award winning visual effects and groundbreaking filmmaking that has been hailed as 'a triumph of special effects artistry' (Roger Ebert Chicago Sun-Times) this epic film is sheer movie-making magic that was 65 million years in the making. Jurassic Park takes you to an amazing theme park on a remote island where dinosaurs once again roam the earth and five people must battle to survive among the prehistoric predators. Starring Sam Neill Laura Dern Jeff Goldblum and Richard Attenborough discover the breathtaking adventure you will want to experience again and again.

Gangster Squad
Los Angeles, 1949. Ruthless, Brooklyn-born mob king Mickey Cohen (Sean Penn) runs the show in this town, reaping the ill-gotten gains from the drugs, the guns, the prostitutes and-if he has his way-every wire bet placed west of Chicago. And he does it all with the protection of not only his own paid goons, but also the police and the politicians who are under his control. It's enough to intimidate even the bravest, street-hardened cop…except, perhaps, for the small, secret crew of LAPD outsiders led by Sgt. John O'Mara (Josh Brolin) and Jerry Wooters (Ryan Gosling), who come together to try to tear Cohen's world apart.

The Impossible
Based on a true story, THE IMPOSSIBLE is the unforgettable account of a family caught, with tens of thousands of strangers, in the mayhem of one of the worst natural catastrophes of our time. But the true-life terror is tempered by the unexpected displays of compassion, courage and simple kindness that Maria and her family encounter during the darkest hours of their lives. Both epic and intimate, devastating and uplifting, THE IMPOSSIBLE is a journey to the core of the human heart.

Promised Land
Matt Damon stars in Promised Land, the compelling contemporary drama based on an original screenplay by John Krasinski and Damon and directed by Gus Van Sant (Milk, Good Will Hunting). Corporate salesman Steve Butler (Damon) has been dispatched to the rural town of McKinley with his sales partner (Frances McDormand) to offer much-needed relief to the economically hard-hit residents in exchange for drilling rights to their properties. What seems like an easy job for the duo quickly becomes complicated by a respected schoolteacher (Hal Holbrook), a slick environmental activist (Krasinski), and Steve's interest in a local woman (Rosemarie DeWitt). As they grapple with a surprising array of both open hearts and closed doors, the outsiders soon discover the strength of an American small town at a crossroads.

A Haunted House
Marlon Wayans and Cedric the Entertainer star in this outrageously funny supernatural scary movie. When young couple Malcolm (Wayans) and Kisha (Essence Atkins) move in to their dream place, they soon discover they're not alone. But it's not the home that's possessed, it's Kisha. Now, Malcolm will go to hilarious extremes – including hiring a priest, a psychic, and a team of modern-day ghostbusters to get his place and his sex life back to normal. Co-starring Nick Swardson and David Koechner, it's the no-holds-barred, raunchy comedy that will have you laughing from start to finish.

Jack Reacher (Instant Video early release)
Ex-military investigator Jack Reacher (Tom Cruise) leaps off the pages of Lee Child's bestselling novel and onto the big screen in this explosive thriller. When an unspeakable crime is committed, all evidence points to the suspect in custody who offers up a single note in defense: "Get Jack Reacher!"