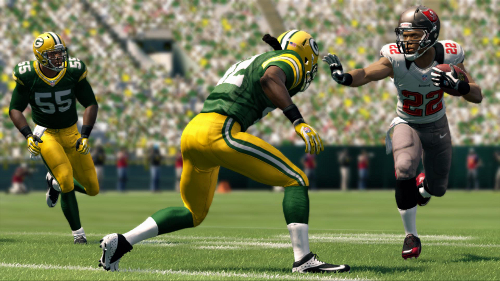 EA Sports today unveiled the upcoming "playbook" structure for news on Madden NFL 25. The first scheduled for Thursday, "Run Free", is expected to be similar to the running game enhancements already announced for NCAA Football 14. That it comes along with the cover announcement and the start of the NFL Draft suggests it won't be much more than that.
A few weeks later talk on advancements to Connected Careers will begin – though interestingly it's being referred to as "Connected Franchise" here with a name change likely in response to considerable consumer confusion regarding the transition from Franchise to Connected Careers last year. Too many people thought Franchise mode had just been removed.
There is also a distinct gap surrounding E3 which begins June 11 with the EA press conference likely falling on Monday the 10th. That could mean either something being kept under the wraps for the event, or that the focus there will be on next-gen with the 360/PS3 versions taking the backseat for that period. 
Run Free (4/25)
Unlock the power, precision and creativity of an NFL ball carrier.
Connected Franchise Part 1 (5/6)
Cement your legacy as one of the all-time great NFL players or coaches in the new and improved Connected Franchise.
Connected Franchise Part 2 (5/20)
Take ultimate control of your franchise
Madden Share (6/24)
The best content from around the Madden NFL universe, right at your fingertips.
Madden Ultimate Team (7/1)
Enjoy new ways to play and build your team in this year's edition of Ultimate Team.