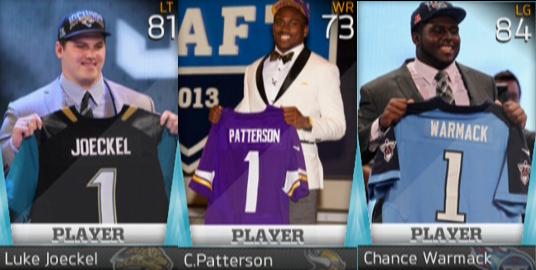 Though to a lesser extent than last year – when they created nearly 40 rookies during the NFL Draft and dropped them into Madden Ultimate Team – EA Sports has created 10 from the 2013 class and added them to packs in Madden NFL 13. The ratings provide insight on what to expect when they debut in Madden NFL 25.
The rookies have been added to "Legend" and "Offseason" packs in Madden 13's Ultimate Team. One is guaranteed in each "Legend" pack. Collecting all 10 delivers collected versions of those players, coins, and a "rookie edge" when starting Ultimate Team in Madden NFL 25. The six Future Stars cards – 99 rated versions of Dion Jordan, Tavon Austin, Jarvis Jones, Dee Milliner, Eddie Lacy, and Tyler Eifert – each provide a collected version, 25K coins, "Legend" pack, and a rookie version of that player when starting Ultimate Team in Madden NFL 25.
The ratings last year from the early Ultimate Team versions to those final in Madden 13 were about half dead on in terms of overalls while the other half were mostly within 1-3 points. The top names didn't move but those who ended up being drafted above or below early projections were altered. Keep that in mind with names like Manti Te'o and Geno Smith in this year's group who didn't get taken in the first round yet were likely rated with the belief they would be.
Chance Warmack is the highest rated of the bunch at 84 overall. The transition for a guard is usually perceived as easier and the top ones generally get the benefit of the doubt starting out in Madden. Tackles (both offensive and defensive) are similar in that sense with #2 pick Luke Joeckel next in line at 81 and Star Lotulelei right there despite not being taken until #14.
Below are the full player cards with individual attribute ratings for for Warmack, Joeckel, Lotulelei, Geno Smith, Ezekiel Ansah, Manti Te'o, Matt Barkley, Montee Ball, Barkevious Mingo, and Cordarrelle Patterson.