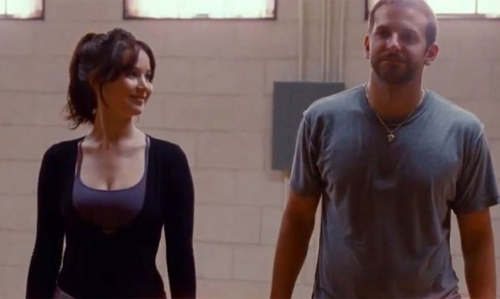 Silver Linings Playbook
Life doesn't always go according to plan. Pat Solatano (Bradley Cooper) has lost everything — his house, his job, and his wife. He now finds himself living back with his mother (Jacki Weaver) and father (Robert DeNiro) after spending eight months is a state institution on a plea bargain. Pat is determined to rebuild his life, remain positive and reunite with his wife, despite the challenging circumstances of their separation. All Pat's parents want is for him to get back on his feet-and to share their family's obsession with the Philadelphia Eagles football team. When Pat meets Tiffany (Jennifer Lawrence), a mysterious girl with problems of her own, things get complicated. Tiffany offers to help Pat reconnect with his wife, but only if he'll do something very important for her in return. As their deal plays out, an unexpected bond begins to form between them, and silver linings appear in both of their lives.

Broken City
Seven years after being forced to resign as a New York police officer, private detective Billy Taggart (Wahlberg) takes on his toughest case yet: following the wife (Zeta-Jones) of the city's hard-nosed mayor (Crowe), who's convinced she's cheating on him. But by the time the mayor reveals his true intentions, Billy is already in too deep. Now, with his freedom – and quite possibly his life – on the line, Billy will risk it all in a desperate bid to expose the truth, and seek redemption in a city where second chances don't come cheap.

The Guilt Trip
Barbra Streisand and Seth Rogen are the perfect comedy duo as they embark on one mother of a road trip! The plan for a quick stop at Mom's takes a sudden turn when an impulse compels Andy (Seth Rogen) to invite his mother, Joyce (Barbra Streisand), on an 8-day, 3,000 mile, journey across the country. But the farther they go, the closer they get and Andy may realize that they have more in common than he ever imagined.

The Details
After 10 years of marriage, Jeff and Nealy Lang (Tobey Maguire and Elizabeth Banks) have an idyllic suburban home and a relationship on the skids. But, when a family of hungry raccoons ransacks their perfectly manicured backyard, Jeff becomes obsessed with eradicating the pests by any means necessary. Soon, the relentless rodents lead way to a battle of wits with a very meddlesome neighbor (Laura Linney), and before he knows it, Jeff finds himself buried in an absurd mess of infidelity, extortion, organ donation and other assorted mayhem. Also starring Ray Liotta, Dennis Haysbert and Kerry Washington.