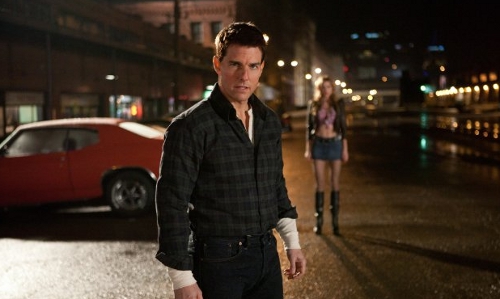 Jack Reacher
From The New York Times bestselling author Lee Child comes one of the most compelling heroes to step from novel to screen – ex-military investigator Jack Reacher (Tom Cruise). When a gunman takes five lives with six shots, all evidence points to the suspect in custody. On interrogation, the suspect offers up a single note: "Get Jack Reacher!" So begins an extraordinary chase for the truth, pitting Jack Reacher against an unexpected enemy, with a skill for violence and a secret to keep and a target on Reacher's back.

Mama
Guillermo del Toro, the Academy Award-nominated writer of Pan's Labyrinth, presents this supernatural thriller that tells the haunting tale of two little girls who disappeared into the woods the day that their parents were killed. When the young sisters are found alive in a decrepit cabin, their uncle (Nikolaj Coster-Waldau, Game of Thrones) and his girlfriend (Oscar nominee Jessica Chastain, Zero Dark Thirty) take them in. As they try to introduce the children to a normal life, Annabel (Chastain) begins to wonder if the traumatized girls are the only guests they have welcomed into their home.

The Oranges
Fresh-squeezed laughs and sexy fun sweeten this critically-acclaimed comedy with an all-star cast, including Leighton Meester, Hugh Laurie, Oliver Platt and Catherine Keener. What does it take to be truly happy? Two suburban families are about to find out when the Ostroffs' rebellious daughter Nina (Meester) returns home and starts an adulterous affair with long-time family friend David Walling (Laurie.) The outrageous scandal reaches a hilarious new heights during the holidays and makes these New Jersey neighbors tear apart more than just wrapping paper. Love is a wrecking ball headed straight for The Oranges…and it may just change all of their lives forever.

Safe Haven
Josh Duhamel and Julianne Hough star in this spellbinding romantic drama based on the novel by best-selling author Nicholas Sparks (The Notebook). When a mysterious, beautiful woman named Katie (Hough), moves to Southport, North Carolina, she sparks the interest of the locals, especially Alex (Duhamel), a handsome widower. Although she is attracted to Alex, Katie is reluctant to trust him – that is, until a new friend (Cobie Smulders) convinces her to give Alex a chance. But before long, a dark secret from Katie's past threatens her happiness in this thrilling romance directed by Lasse Hallstrom (Dear John).

Superman: Unbound
Superman battles Brainiac in order to save his home planet's city of Kandor which has been miniaturized on Brainiac's ship. Based on Geoff Johns' mini series.

Fringe: Season 5
The critically acclaimed and fan-favorite series, FRINGE, returns for its fifth and final season to deliver a climactic conclusion.in all worlds. Picking up from events depicted in season four's flash-forward episode, the seemingly peaceful Observers seized control of our universe in 2015. Now, in 2036, they have become ruthless rulers who stand unopposed. What awaits in the future, however, is the Fringe Team's final stand, which will bring together all they have witnessed in preparation for the final battle to protect our world. Joining Fringe scientist Water Bishop, FBI agent Olivia Dunham, Peter Bishop and the Fringe team is Olivia and Peter's now-grown daughter, Etta, in a final season filled with struggle, surprises, and sacrifice.

Royal Pains: Season 4
Doctor-on-demand Hank Lawson (Mark Feuerstein) and his CFO brother Evan (Paulo Costanzo) charmed the affluent Hampton's community with HankMed, but now the duo is discovering that life isn't always a walk on the beach when their sibling rivalry turns into a business power-struggle. Whether it's the return of their unreliable father Eddie (Henry Winkler), Evan's recent engagement to Paige (Brooke D'Orsay), or Jill's (Jill Flint) bittersweet departure from Hamptons Heritage, Hank and Evan are in for an unforgettable summer. Watch every episode of the critically acclaimed fourth season back-to-back and uninterrupted, including the revealing and memorable holiday special!

Rookie Blue: Season 3
Be careful what you wish for…With two years under their belt, the rookies of 15 Division are well on their way to becoming seasoned cops, but experience isn t everything…and the boundary between job and personal life is no longer as black and white as it once seemed. Bonus Features: Seven Making-of Featurettes plus Behind-the-Scenes and On-Set Cast Interviews.

Private Practice: Season 6
Prepare yourself for the stunning no holds barred final season of television's most seductive medical drama from the creator of Grey's Anatomy, Shonda Rhimes. Feel the passion and relive the heartbreaking moments from every episode of ABC's Private Practice: The Complete Sixth Season. The tight knit family at Seaside Health and Wellness is in for a huge shakeup as a new doctor arrives in the wake of a devastating loss; meanwhile, Addison makes a heart-wrenching choice between Jake and Sam; and more changes are in store for Cooper and Charlotte who discover that life's biggest events come in threes. Lastly, Sheldon finds true happiness in the midst of a traumatic personal challenge. Experience all 13 episodes complete with never-before-seen bonus features on ABC's Private Practice: The Complete Sixth Season!

Flashpoint: Season 5
FLASHPOINT is a drama which depicts the emotional journey into the tough, risk-filled lives of a group of cops in the SRU (inspired by Toronto's Emergency Task Force). It's a unique unit that rescues hostages, busts gangs, defuses bombs, climbs the sides of buildings and talks down suicidal teens. Members of a highly-skilled tactical team, they're also trained in negotiating, profiling and getting inside the suspect's head to diffuse the situation to try and save lives.

30 Rock: Season 7
Celebrate the outrageous seventh and final season of 30 Rock, the Primetime Emmyr, Golden Glober, and Peabody Award-winning series that rocked TV for seven hilarious years. Primetime Emmyr Award winner Tina Fey is back as the indomitable (and occasionally hormone-addled) TGS writer Liz Lemon, who, having found bliss with boyfriend Criss, hopes show success isn't far behind. But if scheming executive Jack Donaghy (Primetime Emmyr and Golden Glober Award winner Alec Baldwin) has his way, he'll either defeat KableTown's teen "successor" or sink the whole company trying. Meanwhile, Jenna (Jane Krakowski) is planning the ultimate surprise wedding, Tracy (Tracy Morgan) gets shocking medical news, and Kenneth (Jack McBrayer) can't comprehend his (gasp!) new girlfriend.