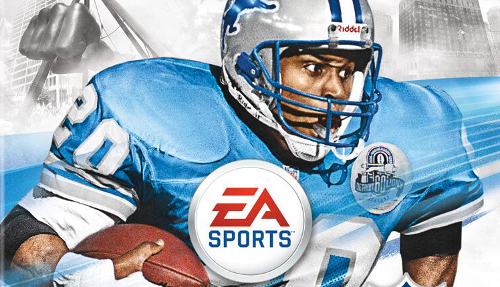 Amazon today posted listings for the Anniversary Edition of Madden NFL 25 which will be exclusive to the online retailer. The special edition will include 17 packs for Ultimate Team distributed over 17 weeks (each features 2 rare players, 4 silver, and 4 bronze) and exclusive offers that will benefit very few for NFL Sunday Ticket. The price will be $100. 
♦For fans who are not currently DirecTV subscribers but are able to receive DirecTV service, they will receive a promo code entitling them to $10 off per month for their first year of service and one year of NFL Sunday Ticket Max at no additional charge.
♦For fans who are already DirecTV and NFL Sunday Ticket Max subscribers, you can access NFL Sunday Ticket on your computer, tablet, and mobile devices using your current DirecTV username and password.
♦For fans unable to receive DirecTV service, each Madden NFL 25 Anniversary Edition will include a unique code to access the 2013 regular season (17 weeks) trial of NFL Sunday Ticket on computers, tablets, and mobile devices- including access to the award-winning Red Zone Channel.
Keep in the mind that the third group – "fans unable to receive DirecTV service" – would be very limited in scope and not those who simply have cable instead of DirecTV. That is for the people who can't get DirecTV where they live. So the Anniversary Edition of Madden NFL 25 will really only appeal to hardcore Ultimate Team players and those starting new service with DirecTV or that fall into that specific group that can't get DTV even if they wanted to.
For $40 the savings might make sense for them. For everyone else there would be no reason to buy the special edition over the standard one. It's especially perplexing that the Anniversary Edition of Madden wouldn't include anything related to the franchise's history.
If you do decide to purchase any version of Madden NFL 25 through Amazon doing so through this link helps to support the site and future giveaways!
[UPDATE] Under the current terms posted DTV has the right to reject access to the mobile service for anyone that has the ability to buy their full service but don't have it and for those who are already subscribers but not to Sunday Ticket. Regardless of whether EA says that will or will not happen (they say it won't) DTV is the one who will end up making the call come September. Unless the terms on the product page are changed there is risk in purchasing with the expectation of taking advantage of the Sunday Ticket deal. Considering DTV's history of business practices, and the intentional language throughout the terms to give them these very clear outs, the Anniversary Edition can not be recommended at this time.
[UPDATE #2] I've now called in and spoken to DirecTV representatives, as have others, and been told unless verification is made determining you are unable to get DTV service where you live (based on satellite positioning or living in an apartment building) you will not be granted access to the anything this deal offers. Again…buyer beware unless the language of the terms is altered.
[UPDATE #3] In the weeks since the announcement of the Anniversary Edition, Amazon has added a FAQ to the listings that should be sufficient in easing the minds of those concerned with the fine print of the deal. If DTV backed out and didn't allow people to use the code then it should be enough to go back to Amazon with for a refund.