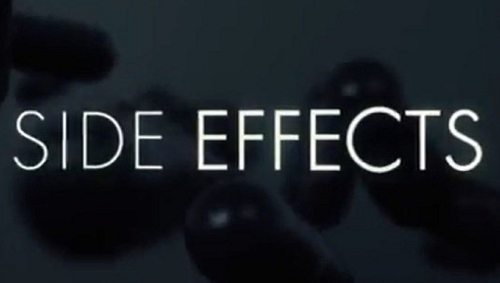 Side Effects
From Academy Award-winning director Steven Soderbergh (Traffic) comes this suspenseful and provocative tale of intrigue starring Channing Tatum, Academy Award nominees Rooney Mara and Jude Law, and Academy Awardr winner Catherine Zeta-Jones. After her husband (Tatum) is released from prison, Emily (Mara) begins suffering from terrifying anxiety and turns to psychiatrist Dr. Banks (Law) for help. But when Banks prescribes an experimental drug for her, the side effects have chilling and deadly consequences. Full of unexpected twists, Side Effects is the sexy psychological thriller that critics are calling "wildly unpredictable!"

Beautiful Creatures
When newcomer Lena Duchannes arrives in the small town of Gatlin she quickly captures the attention of Ethan Wate, who only wants to escape what he views as a boring and dead end town. He quickly gets more than he bargained for, as Lena possesses strange powers that have long kept her at a distance from others in her life. Lena and Ethan are drawn together, but their budding romance is threatened by the dangers posed by Lena's being a Caster and her family's Dark powers, for upon her sixteenth birthday Lena must undergo the Claiming, a process that will decide her fate forever: Light or Dark.

The Last Stand
Sheriff Ray Owens (Schwarzenegger) moved out of Los Angeles and settled into a life fighting what little crime takes place in sleepy border town Sommerton Junction. But that peaceful existence is shattered when Gabriel Cortez (Eduardo Noriega), the most notorious, wanted drug kingpin in the western hemisphere, makes a deadly yet spectacular escape from an FBI prisoner convoy. With the help of a fierce band of lawless mercenaries led by the icy Burrell (Peter Stormare), Cortez begins racing towards the US-Mexico border at 250 mph in a specially-outfitted Corvette ZR1 with a hostage in tow. Cortez' path: straight through Summerton Junction, where the whole of the U.S. law enforcement, including Agent John Bannister (Forest Whitaker) will have their final opportunity to intercept him before the violent fugitive slips across the border forever. At first reluctant to become involved, and then counted out because of the perceived ineptitude of his small town force, Owens ultimately rallies his team and takes the matter into his own hands, setting the stage for a classic showdown.

Parker
Parker (Jason Statham) is a professional thief who lives by a personal code of ethics: Don't steal from people who can't afford it and don't hurt people who don't deserve it. But on his latest heist, his crew double crosses him, steals his stash, and leaves him for dead. Determined to make sure they regret it, Parker tracks them to Palm Beach, playground of the rich and famous, where the crew is planning their biggest heist ever. Donning the disguise of a rich Texan, Parker takes on an unlikely partner, Leslie (Jennifer Lopez), a savvy insider, who's short on cash, but big on looks, smarts and ambition. Together, they devise a plan to hijack the score, take everyone down and get away clean. Also starring Michael Chiklis.

Identity Thief (Early Instant Video Exclusive)
Jason Bateman and Melissa McCarthy lead an all-star cast in this hilarious blockbuster hit about an accounts rep who has one week to clear his name after a con artist steals his identity.

Stand Up Guys
TAND UP GUYS stars Academy Award winners Al Pacino, Christopher Walken and Alan Arkin as retired gangsters who reunite for one epic last night. But one of the friends is keeping a dangerous secret – he has to kill his friend, and his time to find an acceptable alternative is running out. As the sun rises on the guys' reunion, their position becomes more and more desperate and they finally confront their pasts once and for all.

LEGO Batman: The Movie – DC Super Heroes Unite
When Bruce Wayne receives the man of the year award, fellow billionaire Lex Luthor becomes jealous and decides to run for President. To create the atmosphere for his type of fear-based politics Lex recruits the Joker to perfect a Black LEGO Destructor Ray which wreaks havoc on Gotham. As Lex destroys Batman's tech, Batman reluctantly turns to Superman for help.

True Blood: Season 5
Returning for its fifth season, True Blood is HBO's sexy, scary, wildly entertaining drama series from Oscar®- and Emmy®-winner Alan Ball (Six Feet Under) and based on the Sookie Stackhouse novels by Charlaine Harris. In addition to returning cast favorites – human/faerie waitress Sookie Stackhouse, her vampire suitors Bill Compton and Eric Northman, soul-searching pal Tara, shape-shifting boss Sam, rakish brother Jason, clairvoyant Lafayette and teen-vamp Jessica – Season 5 introduces a whole new wave of otherworldly characters. There's Vampire Guardian Roman, president of the Vampire Authority, who wants co-existence between humans and vampires; vampire zealot Salome (yes, the Salome), intent on recreating the world in God's vampyric image; Authority Chancellor Nora, who shares the same maker as Eric; werewolves J.D. and Martha, who want a reluctant Alcide to take his rightful place as packmaster; and many more. Mixing romance, suspense, mystery and humor, True Blood Season 5 goes deep into the battle between the Vampire Authority and "vampire fundamentalists" – a political power play whose outcome could decide not only the fate of Sookie and her Bon Temps friends, but of all human existence.