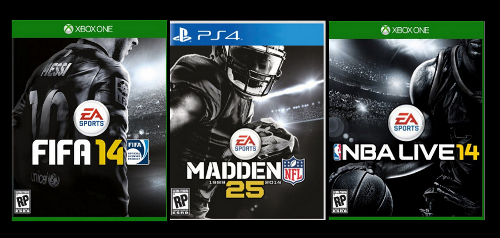 Last year EA Sports attempted to market NBA Live 13 as "The Future of Basketball" and with it they tied up a number of rising-stars in the league to be a part of their marketing campaign. One of them was Kyrie Irving and as that relationship continues he became one of the favorites to snag the cover of NBA Live 14. Placeholder box art for the next-gen consoles could hint at him being the cover athlete. Click here for the full size image.
Along with new box art graphics for the Xbox One and PS4 versions of Madden NFL 25 and FIFA 14 is that of NBA Live 14. The image appears to feature Irving and though it is meant to disguise that it doesn't seem to make a whole lot of effort to do so. FIFA's does have Lionel Messi, who is the cover representative, while Madden's features last year's Calvin Johnson. There has been no information on who will be on the cover of next-gen Madden.
Obviously this is far from being confirmation but Irving made a lot of sense going in to be the cover athlete. On a side note these covers are slick and EA should consider keeping the style around.