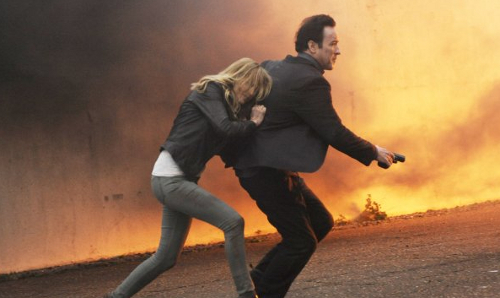 The Numbers Station
After his latest mission goes disastrously wrong, veteran CIA black ops agent Emerson Kent (John Cusack) is given one last chance to prove he still has what it takes to do his job. His new assignment: guarding Katherine (Malin Akerman), a code operator at a top-secret remote CIA "Numbers Station" where encrypted messages are sent and received. When an elite team of heavily armed assailants lays siege to the station, Emerson and Katherine suddenly find themselves in a life-or-death struggle against an unknown enemy. With the station compromised and innocent lives at stake, they must stop the deadly plot before it's too late.

Dark Skies
From the producer of Paranormal Activity, Insidious, and Sinister comes Dark Skies: a supernatural thriller that follows a young family living in the suburbs. As husband and wife Daniel and Lacey Barret witness an escalating series of disturbing events involving their family, their safe and peaceful home quickly unravels. When it becomes clear that the Barret family is being targeted by an unimaginably terrifying and deadly force, Daniel and Lacey take matters in their own hands to solve the mystery of what is after their family.

Covert Affairs: Season 3
Everything changes for savvy CIA operative Annie Walker (Piper Perabo, Looper) in season three of the hit series Covert Affairs. Reassigned to a new and even more covert division of the Agency, Annie takes on missions that become personal and finds herself on dangerous forays into inhospitable territory, while a series of explosive revelations force her to question her role and what (and who) matters most.

Suits: Season 2
Hotshot attorney Harvey Specter (Gabriel Macht, Love and Other Drugs) and legal prodigy Mike Ross (Patrick J. Adams, Luck) – who actually doesn't have a law degree – return as the dynamic duo in season two of the hit series Suits. Harvey and Mike continue to hide their secret as they deal with the ominous return of founding partner Daniel Hardman (David Costabile, Breaking Bad), juggle demanding caseloads, and tackle dramatic developments in their personal lives.

Longmire: Season One
To close murder cases under open skies he's your man. Out of bestselling author Craig Johnson's mystery novels strides Walt Longmire the charismatic and unflappable sheriff of Absaroka County and the world-weary yet dedicated lead character of this spellbinding hit series. Struggling since his wife's death a year ago and at the urging of his attorney daughter Walt knows he must turn his life around. Aided by a new female deputy and his oldest friend he becomes reenergized about his job and running for reelection though an ambitious younger deputy is a rival candidate for the job. And despite the dark secrets and tangled relationships that pervade this 2-Disc 10-Episode Season One Set he doggedly solves the big crimes of Wyoming's big sky country

Doctor Who: Season Seven – Part Two
The Doctor kicks off this new run of adventures by searching for his companion Clara – an Impossible Girl he's already lost twice. Together they find themselves battling monsters on distant alien planets, trapped in a Russian submarine with a deadly passenger, chasing terrifying ghosts, delving into the heart of the TARDIS, facing the Crimson Horror in Victorian Yorkshire, and coming face to face with an army of upgraded Cybermen. The action grows and the Doctor's oldest secret threatens to be revealed as the world's longest running science fiction series builds toward its explosive 50th anniversary.