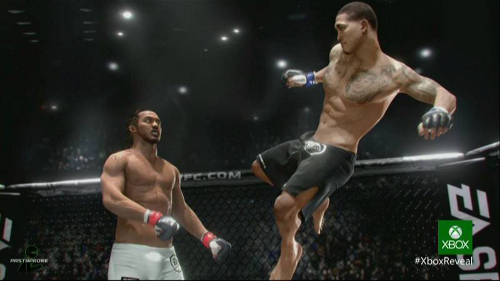 With E3 now less than two weeks away EA Sports is already revving up the hype with a series of teases for the UFC franchise to be made over the next eight days. Given that the first entry in the series from the company, which acquired the license last March, is still about a year away from release the spotlight it is being given suggests a high level of confidence in development and high hopes for it becoming a powerful franchise. EA is looking to generate excitement about the series far in advance and potentially take on the role that the Fight Night series held in the early months of the current console generation. 
According to EA there will be eight gameplay features for UFC announced at E3 – it's unclear whether that will all occur at the press conference on June 10 or if information will roll out over the course of that week – and for the next eight days they're posting images that hint at what those will be. The first can be viewed here and is ambiguous enough that it's fairly pointless to analyze or even make any guesses on.
Just last week at the Microsoft Xbox One reveal the Ignite engine was announced as playing a role in the next-generation versions of UFC, Madden, NCAA Football, and FIFA that will be out within the next 12 months. UFC is the one farthest out (the others likely hitting on launch day for both Xbox One and PS4) having received confirmation that there are no plans to release this fiscal year which runs through next April.
EA Sports UFC is being developed out of the EA Canada studio by the team behind the Fight Night series. Work began almost immediately following the acquisition of the UFC license that was announced at E3 last year. The license will be utilized beyond just console games and EA UFC is expected to prominently feature the women's division.