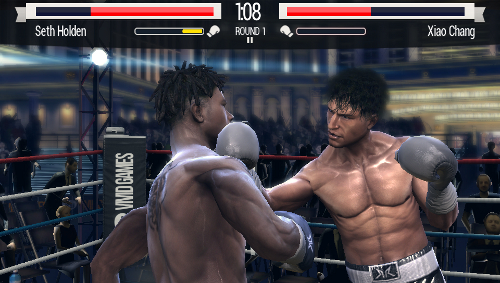 VividGames today announced that they will be bringing Real Boxing to the PlayStation Vita with release set for August.  Real Boxing first hit late last year for iOS devices and landed on Android a few months ago. Reviews have generally been good with four star ratings on both. 
Each boxer is designed from the laces up to be as realistic as possible. Every fighter has been motion captured in the ring, with every punch, every jab, every jaw-shattering uppercut portrayed in stunning definition. Real-time deformation technology portrays fighters' facial injuries in gory detail. Bones will crunch as punches fly, a mist of sweat and blood filling the ring.

Featuring intuitive controls that make perfect use of the Vita's physical and touch capabilities, Real Boxing offers a host of single, career and training modes with which to perfect your boxing style. Virtually every aspect of your fighter can be customized—from hairstyle to tattoos to clothing, you're free to express yourself how you prefer.

Inside the ring, the Vita's power is showcased with each opponent offering a different style. Real-time commentary and a dynamic crowd provide the full atmosphere of the big fight, with slow-motion replays allowing you to relive dramatic moments over and over.
With the contraction that has taken place this generation in sports gaming boxing notably has taken a back seat as sales started to fall off and UFC emerged. Not only is the sport waning in relevancy but the necessity of signing each fighter individually results in high development costs and decisions to pass on names (due to demands like those made by Floyd Mayweather) that fans would desire in the games.
Here Real Boxing goes from mobile to a portable platform – an unorthodox path to take but one that could pay dividends. It could also be an especially tough sell coming after versions that were only a few dollars but cost much more on Vita. Though it won't have licensed fighters its probably the only boxing title that will be released on a console any time soon.