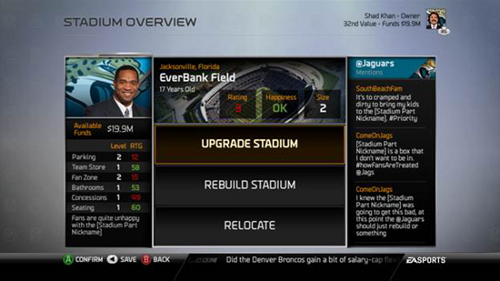 After stumbling with promotion of Madden NFL 25 – the first gameplay news was viewed in a distinctly negative fashion with an earlier poll showing only 14% enthused by the details – EA Sports appears to have gotten back on the right track by detailing the additions and improvements for Connected Franchise mode. In the poll posted earlier this week 45% of the over 2800 voters stated they are more likely to buy the game now. The return of Owner mode and other desired features clearly hit the mark.
In the other news of the week the voters expressed cautious optimism regarding the next-gen EA Sports Ignite engine. 50% went with the "Sounds Good But Too Early To Say" option. Considering similar promises were made eight years ago and didn't materialize that is a fair approach to take. EA will apparently show off actual Xbox One/PS4 gameplay footage at E3 in two weeks and then it will be better evaluated.
Things aren't nearly as positive regarding the Xbox One following Microsoft's reveal event. 48% are either leaning or definite "no buy" at this point but obviously there is still a lot to learn about the console so that could change in the coming weeks and months. 31% combine as leaning or definite "buy".