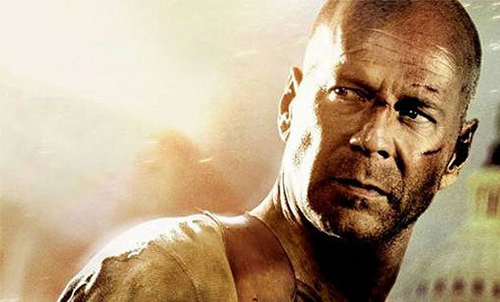 A Good Day to Die Hard
Bruce Willis is back in action – mind-blowing, heart-stopping, rip-roaring action – as John McClane, the heroic New York cop with a knack for being in the wrong place at the right time. John's latest predicament takes him all the way to Russia to track down his estranged son, Jack (Jai Courtney), who has been imprisoned in Moscow. But the mission takes a deadly turn as father and son must join forces to thwart a nuclear weapons heist that could trigger World War III!

Warm Bodies
After a zombie epidemic, R (a zombie) rescues Julie (a human survivor) from a zombie attack. The two form a special relationship in their struggle for survival, R becomes increasingly more human – setting off a chain of events that begins to transform the other zombies and maybe even the whole lifeless world.

Identity Thief
Jason Bateman and Melissa McCarthy lead an all-star cast in this hilarious blockbuster hit. Unlimited funds have allowed Diana (McCarthy) to live it up on the outskirts of Orlando. There's only one glitch: she's financing her shopping sprees with an ID stolen from Sandy Patterson (Bateman), an accounts rep who lives halfway across the U.S. With only one week to hunt down the con artist before his world implodes, the real Sandy Patterson is forced to extreme measures to clear his name.

Escape from Planet Earth
The 3D animated family comedy catapults moviegoers to planet Baab where admired astronaut Scorch Supernova (Brendan Fraser) is a national hero to the blue alien population. A master of daring rescues, Scorch pulls off astonishing feats with the quiet aid of his nerdy, by-the-rules brother, Gary (Rob Corddry), head of mission control at BASA. When BASA's no-nonsense chief Lena (Jessica Alba) informs the brothers of an SOS from a notoriously dangerous planet, Scorch rejects Gary's warnings and bounds off for yet another exciting mission. But when Scorch finds himself caught in a fiendish trap set by the evil Shanker (William Shatner) it's up to scrawny, risk-adverse Gary to do the real rescuing. As the interplanetary stakes rise to new heights, Gary is left to save his brother, his planet, his beloved wife Kira (Sarah Jessica Parker) and their adventure hungry son Kip.

Mad Max Trilogy
Includes: Mad Max, The Road Warrior, and Mad Max Beyond Thunderdome

Shaun of the Dead/Hot Fuzz Double Feature
Shaun of the Dead: Simon Pegg, Nick Frost, Kate Ashfield. High levels of funny and scary make this one a side-splitting, spine-tingling experience when Shaun is aided by his best friend Ed to save his family and his girlfriend Liz from the flesh-eating zombies who have suddenly begun to walk London's streets in search of their next meal! Hot Fuzz: Shaun of the Dead's Simon Pegg and Nick Frost star in this $22 million-grossing spoof of cop movies.

Breaking Bad: Season 5
Uneasy lies the head that wears the crown. Bryan Cranston and Aaron Paul return in their Emmyr -winning roles of Walter White and Jesse Pinkman in the fifth explosive season of Breaking Bad. With Gus Fring dead, Walt's transformation from a well-meaning family man to ruthless drug kingpin is nearly complete. Forming a partnership with Jesse and Mike (Jonathan Banks), Walt proceeds to make a killing in the meth business until the fruits of his murderous schemes are threatened by a new development in the investigation led by his relentless brother-in-law Hank (Dean Norris). Executive produced by Vince Gilligan and Mark Johnson, the fifth season charts the murderous rise of Walter White as he reaches new highs…and new lows.

Pretty Little Liars: Season 3
As the third season begins, a summer has passed since Aria, Emily, Hanna and Spencer found out about Mona being "A" and the death of Maya. With the terror seemingly over and an alleged murderer now behind bars, the town of Rosewood is slowly healing from old and new wounds. Each of the four girls spent their summer in different ways — with Aria taking a photography class, Spencer taking college courses at Hollis, Hanna taking cooking classes with Caleb and Emily building houses in Haiti. But what looks "normal" for each girl is not necessarily so, as all four are hardly over what happened. With post-traumatic stress, anger and the acquisition of more secrets, the four girls are anything but fine. Now back together and coming upon the second anniversary of Alison's disappearance, the girls find themselves back on the defensive when a shocking event rocks Rosewood.

Falling Skies: Season 2
The mystery deepens for the remaining survivors of the massive alien invasion as Falling Skies returns for its second season with mysterious new creatures. Three months have passed since former college professor, father of three and unlikely leader of the civilian resistance group Tom Mason (Noah Wyle) went willingly with the aliens on one of their ships to free his son and learn their plans. Nobody has seen or heard anything from him during this time, and his absence has taken its toll on his sons. Ben and his older brother, Hal, have stepped up as fighters but quickly clash as they both seek to secure their roles as leaders in their father's absence. Many lives have been lost since Tom left, but the survivors of the 2nd Mass still struggle on with courage and resilience. In the first season, our heroes coped with the trauma of losing their world; in this season, they take action and fight back!