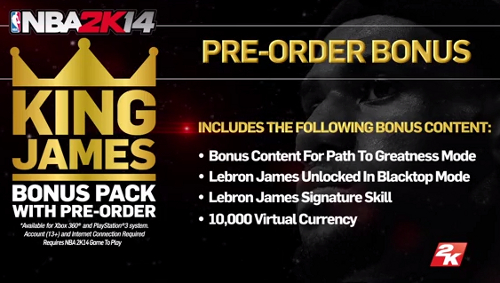 For NBA 2K14 once again 2K Sports is providing exclusive content for pre-ordering that won't be specific to a single retailer. Last year it was the All-Star Weekend package and this time the incentive relates to cover athlete LeBron James.
The "King James" Bonus pack will be included in all pre-ordered copies whether it be at Amazon, Gamestop, or elsewhere and applies only to the Xbox 360 and PS3 versions. The PC is again being left out and plans for the Xbox One and PS4 will come at a later date.
The bonus pack mentions a new "Path to Greatness" mode which could be an offshoot of MyCareer or something more in line with 2K11's Jordan Challenge. Unfortunately confirmed through this is the return of Virtual Currency which was arguably the worst part of 2K13 adversely infecting several modes and influencing how to play or spend to compete. Hopefully the system has been reworked based on complaints. The 10K VC included is $3 worth.