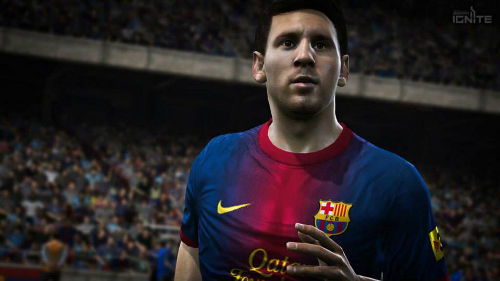 Earlier this month E3 delivered the first actual display of the next-gen sports games scheduled to release along with the consoles later this year or early into 2014. Some had legitimate gameplay trailers and others stuck with pre-rendered footage but most had something in-game to actually showcase at the event.
Madden NFL 25, FIFA 14, and NBA 2K14 featured to a varying extent actual in-game footage in their trailers. NBA Live 14 and EA Sports UFC did not. Despite that Live's dribbling display with Kyrie Irving seen at the EA press conference and playable behind closed doors was legitimate. 2K14 sat out the event after debuting their video at the Sony press conference and thus offered up the least substance of any of the next-gen sports games. FIFA 14 was fully playable and Madden NFL 25 offered the ability to run some plays with Adrian Peterson to see a demonstration of how much the blocking had advanced.
A longer wait will be necessary for EA Sports UFC which won't be out until April 2014 at the earliest. The company showed off some action from the game behind the scenes while publicly detailing eight central gameplay features.
NBA Live 14 and UFC have one distinct advantage over the remainder of the pack and that is they won't be faced with releasing a short time after landing on the Xbox 360 and PS3. They'll be offering a brand new fully next-gen experience with the Xbox One and PS4. The others require being marketed more delicately and finding a way to appeal to those who may have bought the game on current gen only a month or two earlier.
MLB 14: The Show will undoubtedly make its way to the PS4 next spring but given that nothing yet is known about it and has yet to be made official it is being left out of the poll. Vote below and leave any additional thoughts in the comments!