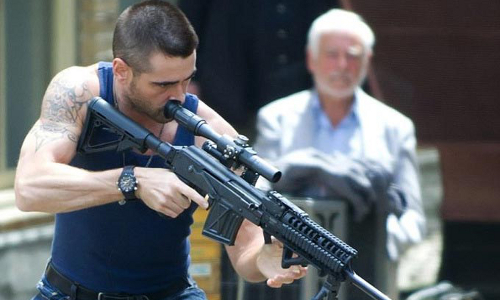 Dead Man Down
Victor (Colin Farrell), a professional killer and the right hand man to an underground crime lord in New York City, is seduced and blackmailed by Beatrice (Noomi Rapace), a crime victim seeking retribution. Their chemistry and intense relationship leads them to execute a violent and cathartic plan for revenge.

The Host
From Stephenie Meyer, the creator of the worldwide phenomenon The Twilight Saga, comes this daring and romantic thriller based on The New York Times #1 bestselling novel. When an unseen enemy threatens mankind by taking over humans' bodies and erasing their minds, Melanie Stryder (Saoirse Ronan) risks everything to protect the people she cares about most, proving that love can conquer all in a dangerous new world. The Host is a passionate and powerful epic love story co-starring Diane Kruger, Jake Abel, Frances Fisher, Max Irons and William Hurt.

Spring Breakers
Four frustrated college girlfriends (Selena Gomez, Vanessa Hudgens, Ashley Benson and Rachel Korine) plot to fund their best spring break ever by burglarizing a fast-food shack. But that's only the beginning… during a night of partying, the girls get arrested. Hungover and clad only in bikinis, the girls appear before a judge and get bailed out unexpectedly by Alien (James Franco), an infamous local dealer who takes them on the wildest spring-break trip in history.

Admission
Tina Fey and Paul Rudd star in this hilarious and heartwarming comedy about the unexpected detours we encounter on the road to happiness. Year in and year out, Princeton admissions officer Portia Nathan (Fey) has lived her life by the book. But during her annual recruiting trip, she finds herself reconnecting with a former college classmate, free-spirited teacher John Pressman (Rudd). As she bends the entrance rules for one of his very unconventional students, Portia puts at risk the future she thought she always wanted, and finds her way to a surprising and exhilarating life she never dreamed of having.

Would You Rather
What would you do if a millionaire offered you a chance to solve all your life s problems? After the tragic death of her parents, Iris (Brittany Snow, Pitch Perfect) is desperate to make ends meet while caring for her terminally ill younger brother. When seemingly philanthropic aristocrat Shepard Lambrick (Jeffrey Combs, Re-Animator) expresses an interest in helping them by inviting her to an exclusive dinner party that offers the chance at untold riches, Iris finds herself in a group of similarly desperate individuals all looking to make some easy money. But the guests soon find themselves trapped in Lambrick's mansion and forced to play a sadistic game of Would You Rather, where only the winner will get out alive. As the game progresses, Iris must decide how far she will go to save her brother… and herself. Featuring a terrific ensemble cast that includes Sasha Grey (The Girlfriend Experience), Lawrence Gilliard Jr. (Army Wives), Eddie Steeples (My Name Is Earl) and Charlie Hofheimer (Mad Men), WOULD YOU RATHER is an edge of your seat horror thriller that invites you over for a quiet evening of murder.

Tyler Perry's Temptation
An explosive romance about forbidden desires, TYLER PERRY'S TEMPTATION tells the provocative story of Judith, an ambitious married woman whose temptation by a handsome billionaire leads to betrayal, recklessness and forever alters the course of her life.

Warehouse 13: Season 4
Prepare for more paranormal thrills, chills and excitement as Warehouse 13 returns with more action-packed mysteries than ever before! After the destruction of the Warehouse, the agents risk the use of a mythical artifact in an attempt to restore all they've lost. But the use of this dangerous artifact could change the Warehouse team and the world forever. Featuring guest appearances by Brent Spiner (Star Trek: The Next Generation), Sam Huntington (Being Human) and other sci-fi favorites, this five-disc set includes all 20 Season Four episodes plus a cache of classified bonus content including a never-before-seen chapter of the animated web series Grand Designs.