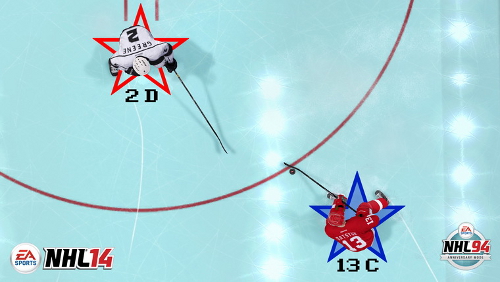 There was never any doubt that NHL 94 would play a role in NHL 14 and today EA Sports revealed details on its place in the game. NHL 94 Anniversary Mode will be included in NHL 14 and combines the current day gameplay engine with the controls, presentation, and lack of rules featured in '94 but unfortunately won't be playable online. 
Forget all the rules. Penalties? Get out of here! Offsides? Nope! Icings? Not a chance! Just old school NHL '94­-style gameplay that uses classic button controls to deliver big hits, real fights, dirty dangles and sick snipes! You can even celebrate those moves with a new take on classic goal celebrations.

All built within the NHL 14 game engine, NHL '94 Anniversary Mode showcases its hockey video gaming roots through a retro presentation including blue ice, classic star-shaped player indicators, 16-bit arena powerbars, no adboards, and throwback organ music. Relive the glory days of NHL '94 with NHL '94 Anniversary Mode in NHL 14!