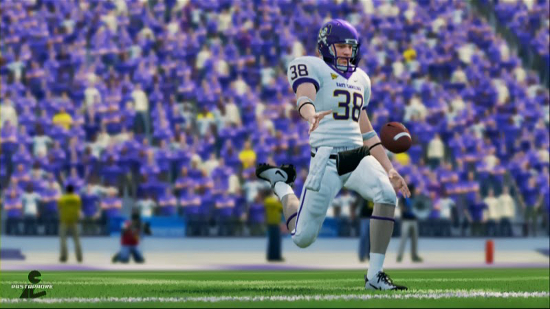 Earlier today the news broke that the NCAA was pulling out of providing their license for any college sports video games. Executive vice president of EA Sports, Andrew Wilson, has responded to the news today to assure fans the series will continue albeit without the NCAA name and logo attached. 
Wilson: "EA SPORTS will continue to develop and publish college football games, but we will no longer include the NCAA names and marks.  Our relationship with the Collegiate Licensing Company is strong and we are already working on a new game for next generation consoles which will launch next year and feature the college teams, leagues and all the innovation fans expect from EA SPORTS."
The current license with the CLC is set to expire next year so presumably there has been an extension made that hasn't been officially announced.
The future of the series is still very much in doubt due to the likeness lawsuit currently working its way through the lengthy legal process. In addition considering the increased development costs at the transition to the new generation of consoles and stagnant sales, thought that the series would end due to the NCAA's withdrawal was a legitimate scenario to consider. The NCAA's decision does not help sales potential and could add to the perception that both parties are guilty. Their support – which not integral to the meat of the game – holds weight and brand recognition matters.
The confirmation of College Football 15 for Xbox One and PlayStation 4 is the most surprising news out of the statement given they've known of the NCAA's decision for some time. The company could have looked to go the NCAA Baseball path and release weak efforts on current-gen for the next year or two while waiting out the court decision. Going into next-gen means a significant investment is being made and it's a questionable one given the situation.