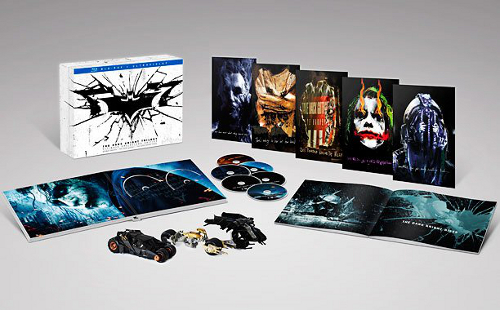 The Dark Knight Trilogy: Ultimate Collector's Edition is slated to release on September 24 for $100. Amazon has it listed now for pre-order. The Blu-ray box set will include all three films, 48 page hardcover book with production stills and behind the scenes images, Mattel Hot Wheels (Bat, Batpod, Tumbler), and collectible art cards by Mondo (featuring Scarecrow, Joker, Bane, Harvey Dent, Ra's al Ghul).
*Disc 1 – Batman Begins Feature and Special Features
*Disc 2 – The Dark Knight Feature
*Disc 3 – The Dark Knight Special Features
*Disc 4 – The Dark Knight Rises Feature
*Disc 5 – The Dark Knight Rises Special Features
*Disc 6 – Bonus Disc of New Special Features
NEW Special Features
♦The Fire Rises: The Creation and Impact of The Dark Knight Trilogy – The inside perspective on the fascinating story behind the creation of one of the most celebrated franchises and how it changed the scope of movie making….forever. Full of never-before-seen footage, rare moments, and exclusive interviews with Guillermo Del Toro, Damon Lindelof, Michael Mann, Richard Roeper, Zack Snyder and others.
♦Christopher Nolan & Richard Donner: A Conversation – For the first time, Directors Christopher Nolan (The Dark Knight Trilogy) and Richard Donner (Superman) sit down to discuss the trials and triumphs involved in bringing the two most iconic superheroes of all time to the big screen, and how Superman influenced Nolan when developing Batman Begins.
♦IMAX Sequences: The Dark Knight; The Dark Knight Rises – See your favorite scenes as they were intended in the original IMAX aspect ratio
Exclusive NEW Memorabilia
♦Premium Mattel Hot Wheels Vehicles: Batmobile, Batpod and Tumbler
♦Newly commissioned collectible art cards by Mondo featuring Scarecrow, Joker, Bane, Harvey Dent, and Ra's al Ghul
♦48-page hardcover book featuring production stills and behind the scenes images from all three movies