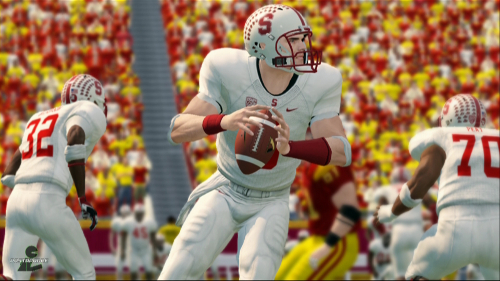 A funny thing happened when the NCAA made public the decision to no longer support video games with official branding – individual institutions who had stayed out of the fray took note that their own exposure to potential litigation was something to consider going forward. Some may already have walked away from associating with video games.
USA Today first had an article that raised the potential of this taking place with quotes from the athletic departments of Kansas and Stanford that made clear things are no where near settled for EA Sports and the future of college football video games.
Though EA will present the rosiest of scenarios right now to ease concerns – as they did Wednesday by announcing the college football series will continue and debut on Xbox One and PS4 next year including everything consumers expect – there is a lot of time before then where things can go wrong. Whether there will even be a release next year can't be guaranteed as class action certification in the likeness lawsuit could lead to a settlement before then that affects whether the product is viable to continue or not. A decision in the case should it proceed to trial would not come down by next summer and even if a unfavorable judgment were to be made the appeals process would stretch things out for years to come.
Losing the NCAA's support was not just about the name and logo. It set off an alarm bell for every school that if the NCAA felt it was best to distance itself from video games, than maybe they need to as well.
Stanford deputy athletics director Patrick Dunkley, who said his school also is with CLC, expressed similar sentiments. He said that prior to the NCAA's announcement Wednesday, the issue "was not on our radar." Now, "given that the NCAA is taking the position that the legal risk outweighs the benefit, it's only prudent for us to analyze what the perceived risks are," Dunkley said.
Obviously the declaration from EA that the series would continue allowed for the presumption that their partnership with the CLC had been or would soon be extended. Yesterday the two parties announced a three year extension into 2017. The following statement from a Kansas rep suggested that either EA and CLC had not extended the agreement yet/they were unaware of it or that Kansas hasn't signed on with CLC beyond next June. Any school can still choose not to have their rights handled by the CLC or abstain from a particular deal struck for others.
University of Kansas athletics department spokesman Jim Marchiony — who identified his school as a CLC client — said KU officials will want to digest the NCAA's decision. Marchiony said Kansas' agreement with EA, via CLC, for the current version of NCAA Football expires June 30, 2014. "I'm not surprised CLC and EA Sports have a Plan B and we're looking forward to hearing from them about it, to see how we'll proceed in the future," Marchiony said. "We will certainly talk about it, where we go from here."
Most schools have their rights handled by the CLC. The exceptions are USC, Troy, South Alabama, Oregon, Michigan State, Ohio State, Baylor, Virginia Tech, and Northern Illinois. They will need to be individually licensed as had already been the case.
The USA Today reports that some schools have already opted out of the CLC agreement. Based on an extrapolation of the numbers there could be five or more already out. That means beginning next year the college football video game may not represent every Division 1 FBS school. Who those are remain unknown and certainly could change for the better or worse. They may be withdrawing to strike what they feel would be a better deal on their own or more could follow and deem video games an enterprise they don't want to be associated with.
Most consumers will probably not lose sleep over the potential of a Kansas, Stanford (the #3 team in NCAA Football 14), or largely irrelevant program withdrawing from the college football video game series. However this isn't just about Kansas and Stanford. Their statements are representative of what every athletic department in the nation will have to evaluate. Is the risk of getting sued due to licensing rights for a video game worth the monetary gain? For some, more likely the private institutions, that answer might be no. If just one were to pull out that could lead to more and the value of a college football video game series then begins to plummet.
By dropping their involvement the NCAA will avoid future claimants relating to likenesses in video games. That doesn't clear them of liability from past or current athletes and it doesn't affect how they are being challenged in areas such as television contracts and merchandising. EA Sports will have to proceed with the help of the CLC to offer a a product as complete as possible. Whether all schools will choose to participate is the question now at hand.