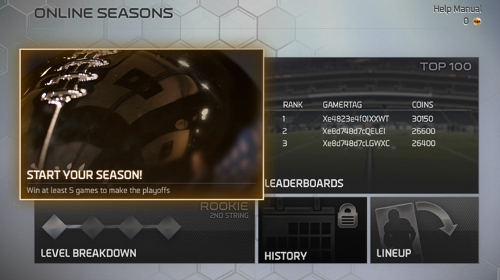 EA Sports today released additional details on the Seasons feature within Madden NFL 25's Ultimate Team mode. Similar to those found in NCAA Football and FIFA's Ultimate Team offerings and being introduced this year in Madden, the Online Seasons offer 10 game stretches followed by playoffs for the right to move on to the next level. There will also be bonus coins provided for competing in Seasons. 
You'll earn coins for each game you play in Seasons. More coins are awarded for outstanding performances, such as winning by lots of points or accumulating many yards of offense. Milestones such as earning a playoff berth or winning the bye are also accompanied by coin rewards. At certain milestones in later levels, you'll receive a reward pack that contains a Premium collectable that helps you get some great items such as unique alternate jerseys. You'll always receive an additional reward pack for winning the Super Bowl.
One concern out of that is EA encouraging people to run up the score and boost statistical output when the outcome for a game is no longer in question. That could lead to even more aggravating experiences and reason for those on the wrong end to rage quit – though one advantage to having Seasons is completing a loss is better than taking a disconnect. Regardless the Seasons aspect of Ultimate Team has proven to deliver a more compelling reason to continue playing and working towards improving both the team and individual skill so it should help make the mode even more popular in Madden this year than it has been in previous iterations.