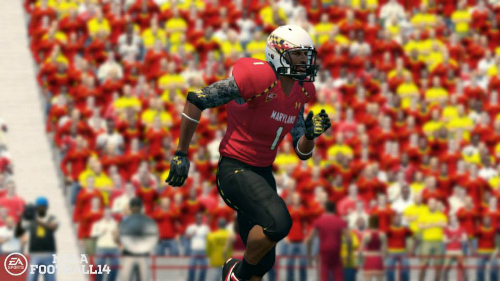 Concern over the future of the college football series from EA Sports has not only stemmed from the likeness lawsuit or recent loss of NCAA licensing but also sales that have for the most part stagnated over the course of the generation rather than show growth as the install bases expanded. Then NCAA Football 13 opened down about 12% compared to NCAA 12. In this week's call with investors COO Peter Moore was asked about how well NCAA Football 14 has been doing since its release earlier this month. 
"As we said a couple of times now on the call we anticipated a little bit of a slowdown in current gen. It's a current gen only title. It's tracking below where we were with last year's title and nothing that we didn't anticipate. A long way to go yet obviously in selling this title through, but we're down versus where we were last year."
The good news for Electronic Arts is that NCAA Football 14 has been received much better than the previous two iterations and that momentum could help as College Football 15 launches on the Xbox One and PS4 next year. Sales numbers on yearly-released titles are heavily affected by whether the most recent purchases for a series lived up to expectations and post-release word of mouth. Both NCAA 12 and NCAA 13 came away as the Most Disappointing Sports Game of the Year in the community awards voting and when perception shifts in that direction hits are going to be taken sales wise. It could need another release or two in order to build back the consumer confidence that was lost and see the results reflected in the sales.
Additionally EA has now established a digital revenue stream through the introduction of Ultimate Team mode. Numbers have not yet come in to gauge how well it is doing but early indications are it has been a worthwhile addition.
Also noted in the call is that EA expects sales to be down for the current generation releases of Madden NFL 25 and NHL 14 yet anticipate FIFA 14 rising from the record-breaking numbers of FIFA 13. In the case of Madden and FIFA they'll pick up more sales to compensate for any earlier losses when next-gen arrives but NHL dropping from numbers established during last year's lockout would be a very discouraging development.