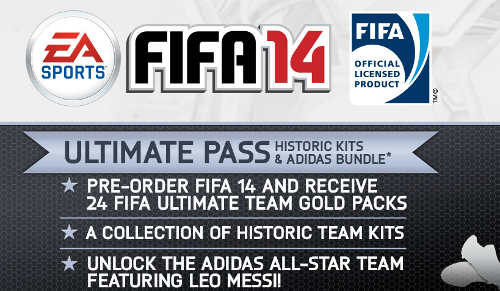 EA Sports has announced the pre-order bonuses for the Xbox 360, PS3, and PC versions of FIFA 14. All day one copies of FIFA 14 will include the "Ultimate Pass" which distributes 24 Ultimate Team Gold Packs over 24 weeks. On top of that Amazon, Gamesop, and Origin all have their own exclusive content to offer which only apply to the 360 and PS3.
Amazon: Receive the adidas Bundle and Historic Club Kits upgrades. Unlock a full collection of in-game content including 2 pairs of adidas boots, 2 balls, and the adidas All-Star Team. This elite team consists of Messi and 29 of the brand's top players from around the world. The Historic Club Kit provides instant access to a collection of historic team kits from around the world.
Gamestop: Receive the GameStop Exclusive Celebration Bundle! Celebrations include "The Business," "The Wave" and "The Belly Flop."
Origin: Receive the Virtual Pro Booster upgrade which contains five different pro boosts to turn your online pro into a star.