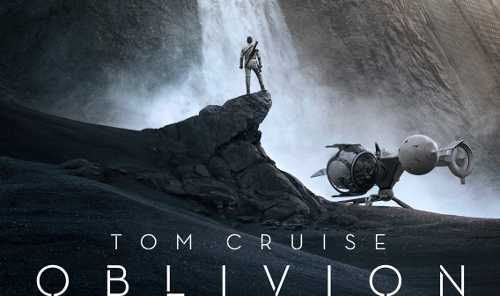 Oblivion
Tom Cruise stars in Oblivion, an original and groundbreaking cinematic event from the visionary director of Tron: Legacy and producers of Rise of the Planet of the Apes. On a spectacular future Earth that has evolved beyond recognition, one man's confrontation with the past will lead him on a journey of redemption and discovery as he battles to save mankind.

Mud
MUD is a timeless adventure about two boys, Ellis and his best friend Neckbone, who find a mysterious man named Mud (McConaughey) hiding out on a deserted island in the Mississippi. Mud tells the boys fantastic stories about his life, including how he killed a man in Texas and that vengeful bounty hunters are coming to get him. He says he is planning to meet and escape with the love of his life, Juniper (Witherspoon), who is waiting for him in town. Skeptical but intrigued, Ellis and Neckbone agree to help him. But it isn't long until Mud's tall tales come to life, and their small town is besieged by bounty hunters out for blood.

The Place Beyond the Pines
Academy Award nominees Ryan Gosling and Bradley Cooper star in this epic, riveting crime drama about the unbreakable bond between fathers and sons. Luke (Gosling) gives up his job as a motorcycle stunt performer in order to provide for his new family. Avery (Cooper), an ambitious rookie cop, struggles to make his way in a corrupt police department. Their two worlds collide when Luke takes part in a string of bank robberies and the consequences of their shocking confrontation will reverberate into the next generation.

Robin Hood: 40th Anniversary Edition
To commemorate its 40th anniversary, Disney proudly presents the unforgettable animated classic Robin Hood on Blu-ray for the first time ever. Experience all the fun, thrills and celebrated music of this legendary adventure with perfect picture and sound! Join Robin Hood, his trusted companion Little John and his hilarious band of Merry Men as they outfox greedy Prince John to save the good people of Nottingham. Dashing from one daring deed to the next, Robin won't rest until he wins the hand of Maid Marian and restores King Richard to the throne. One of Disney's most beloved movies is even better on Blu-ray Combo Pack!

Duck Dynasty: Season Three
The Robertsons have quickly become America's favorite backwoods family. This close-knit clan has made a fortune selling duck calls, turning their backyard business into a multimillion-dollar sporting empire. But for Willie Robertson, the company's CEO, running a family operation can be tough when all your employees live one distraction at a time and find any excuse to leave the warehouse.

Smash: Season Two
In Season Two, Broadway-bound musical Bombshell has competition on its heels in the form of Hit List, a rock musical written by two Broadway newcomers that threatens to tear apart the very fabric of Bombshell's team. As tension mounts on the road to Broadway, new romances are formed, loyalties are betrayed, and rivalries are reignited, all leading up to theater's biggest night — The Tony Awards. Also starring Tonyr Award winner Christian Borle (Broadway's Peter and the Starcatcher), Jack Davenport (Pirates of the Caribbean), Krysta Rodriguez and Andy Mientus. Guest starring Academy Award winners Jennifer Hudson (Dreamgirls) and Liza Minnelli (Cabaret), Emmy Award winner Sean Hayes (Will and Grace) and Tony Award winner Bernadette Peters, watch all 17 episodes back-to-back and uninterrupted featuring never-before-seen bonus content including deleted scenes and more!

Strike Back: Season Two
A high-octane, globe-spanning thriller with storylines ripped from today's headlines, Strike Back is a one-hour drama focusing on two members of a top-secret British anti-terrorist organization known as Section 20: Michael Stonebridge (Philip Winchester), a married Brit who has moved from field work to training recruits as Season 2 opens, and Damien Scott (Sullivan Stapleton), a U.S. Delta Force operative, discharged on the eve of the U.S. invasion of Iraq, who made the most of his second chance to help Section 20 bring down an international terrorist last season. Again co-produced by Cinemax and the U.K.'s Sky TV, the ten Season 2 episodes (47 min. each) follow Stonebridge, Scott and new boss Rachel Dalton (Rhona Mitra) as they scour Africa in pursuit of a fresh covey of criminals, each vying for possession of a box of valuable nuclear triggers that could launch Armageddon if they fall in the wrong hands.

The Borgias: Season Three
Oscar winner Jeremy Irons stars in THE BORGIAS, the saga of history's most infamous crime family. Conspiring with his ruthless sons and poisonously seductive daughter, the charismatic Rodrigo Borgia will let nothing and no one stand in the way of his relentless quest for wealth and power. Mercilessly cruel and defiantly decadent, intimidation and murder are his weapons of choice in his scandalous ascension to the papacy in Renaissance-era Italy.

Community: Season Four
The Study Group returns from summer break ready to tackle their fourth year of Community College. Jeff (Joel McHale) is particularly focused on graduating and is just a few credits away. Meanwhile, Britta (Gillian Jacobs) helps Abed (Danny Pudi) deal with the anxiety he is experiencing over the thought of the study group graduating and breaking up. Chevy Chase, Alison Brie, Yvette Nicole Brown, Donald Glover and Ken Jeong also star.