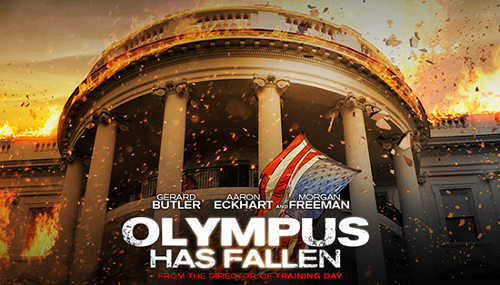 Olympus Has Fallen
Disgraced former Presidential guard Mike Banning finds himself trapped inside the White House in the wake of a terrorist attack; using his inside knowledge, Banning works with national security to rescue the President from his kidnappers.

Pain & Gain (Early Instant Video Exclusive)
When a group of personal trainers decide to steal the American Dream, they get caught up in a criminal enterprise that goes horribly wrong. Now, living large will take everything they've got in the unbelievable and outrageous true story.

Emperor
Based on true events inspired by General Douglas MacArthur's (Tommy Lee Jones) days in post- WWII Japan. Detailed Synopsis: A gripping tale of love and honor forged between fierce enemies of war, inspired by true events and starring Matthew Fox and Academy Awardr-winner Tommy Lee Jones as General Douglas MacArthur. Immediately after Emperor Hirohito's World War II surrender, General MacArthur (Jones) suddenly finds himself the de facto ruler of a foreign nation. He challenges his expert on Japanese culture – General Fellers (Fox) – to provide evidence in 10 short days to decide if the Japanese Emperor, worshipped as a god by his people but accused of war crimes, should be punished or saved. The fate of a nation awaits…

The Muppet Movie: The Nearly 35th Anniversary Edition
Celebrate The Nearly 35th Anniversary of the ultimate frogs-to-riches story with the one that started it all—The Muppet Movie. Laugh along with the mostly-true story of how the Muppets got their start, now for the first time ever in vibrant Blu-ray hi-def picture and sound.

Once Upon a Time: Season 2
Relive every thrilling moment as ABC's Once Upon A Time: The Complete Second Season casts its tantalizing spell. The curse is broken, magic has arrived, and there's no telling what – or who – will be unleashed! Now the exiled fairytale characters must grapple with a flood of awakened memories as they come to grips with their new "reality." Old loyalties will be tested, new heroes will emerge, and vengeful villains will wreak havoc – including ruthless pirate Captain Hook and the relentlessly wicked Cora. Amidst the backdrop of previously unexplored lands and a newly magical Storybrooke, love and sacrifice will set the stage for the ultimate battle between good and evil. For, in the words of Rumplestiltskin, where magic is concerned, only one thing is certain: it always comes at a price. From Storybrooke to Fairy Tale Land and beyond, experience the mystery, romance, action, and adventure of Once Upon A Time's remarkable second season. Complete with all 22 unforgettable episodes, plus exclusive bonus features, this must-own 5-disc boxed set is pure enchantment on an epic scale.

The Mindy Project: Season 1
She's smart. She's successful. But when it comes to finding true love, she's a work-in-progress. Meet Mindy (Mindy Kaling), a single OB/GYN who wants her life to be like a romantic comedy, but just can't find the right leading man. As she attempts to balance her unpredictable workplace with some truly offbeat dating situations, Mindy soon discovers that the prescription for happiness is filled with comical side effects.

Girls: Season 2
Following the urban adventures of a group of 20-something women, the series focuses on Hannah Horvath (Dunham) and her complicated web of NYC friends, ex-friends, boyfriends, and ex-boyfriends. This season, Hannah forges ahead with her dream of being a bestselling author and begins seeing someone new, but her enthusiasm is tempered by the responsibility she feels for her now-ex Adam (Adam Driver), convalescing after his S1-finale accident. Let down by work and still lonely after calling things off with Charlie, Marnie (Allison Williams) needs her best friend and former roommate more than ever, but lingering awkwardness – and some surprising turns – only drive a wedge further between them. Meanwhile, still-married Jessa (Jemima Kirke) returns from her honeymoon, supplying Hannah with surprising new ideas. Shoshanna (Zosia Mamet) takes charge of her new identity as a sexually active woman – and copes with the emotions that come along with it – as Ray (Alex Karpovsky) has an out-of-sight, out-of-mind attitude toward their relationship. The girls may have their ups and downs, but the show's raw poignancy and fresh humor remain constant. And Season 2 of Girls is as addictive as ever.

Southland: Season 5
A tourist flattened by a Hollywood tour bus. Rival gangs at a drug dealer's funeral. Victims cooked by their killer. Welcome to sunny Los Angeles, where LAPD beat cops and detectives work 24/7 doing jobs that require an arsenal of razor-sharp instincts and quicksilver reflexes. The fallout seeps into the personal lives of the flawed but dedicated officers, who must also cope with new motherhood, a penchant for painkillers, domestic drama and corruption's temptation. But even heroes need heroes, and when two cops are kidnapped, the entire department scrambles to save their own in an explosive series finale. This 2-Disc set contains all 10 provocative, action-packed episodes of The Complete Fifth and Final Season of the highly acclaimed, brutally authentic Southland.