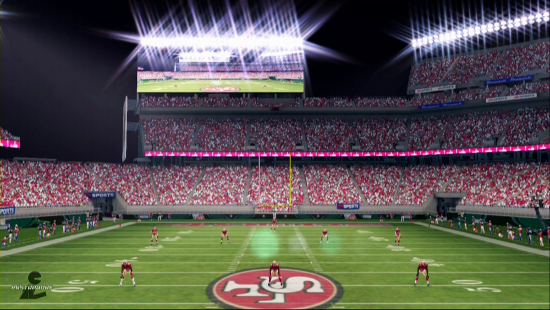 The surprise opening of Levi's Stadium for the San Francisco 49ers is made upon reaching year two in Madden NFL 25's Connected Franchise mode. 
There had been no mention of the stadium being included and no anticipation that it would be considering the 49ers won't move into it until next season. The stadium is only found in Connected Franchise starting with the 2014 season. It isn't available to use in Play Now games offline or online or any other mode.
It appears no other future stadiums made it in however. Mention is made of the Vikings moving out of Mall of America Field in the in-game Twitter feed but they continue to play there at least through the 2016 season and are prompted for renovations or relocation.
Of course building new stadiums and relocating teams is a big part of the new Owner mode in Madden NFL 25. Look for a huge write-up on Connected Franchise Friday morning.