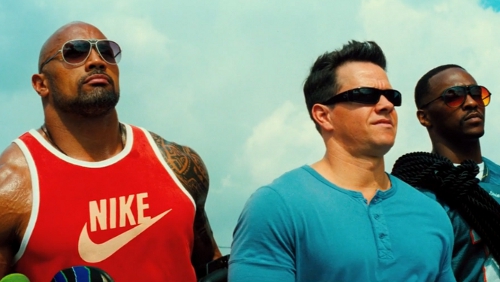 Pain & Gain
From acclaimed director Michael Bay comes Pain and Gain, a new action/comedy starring Mark Wahlberg, Dwayne Johnson and Anthony Mackie. Based on the unbelievable true story of a group of personal trainers in 1990's Miami who, in pursuit of the American Dream, get caught up in a criminal enterprise that goes horribly wrong.

The Great Gatsby
The Great Gatsby follows Fitzgerald-like, would-be writer Nick Carraway as he leaves the Midwest and comes to New York City in the spring of 1922, an era of loosening morals, glittering jazz and bootleg kings. Chasing his own American Dream, Nick lands next door to a mysterious, party-giving millionaire, Jay Gatsby, and across the bay from his cousin Daisy and her philandering, blue-blooded husband Tom Buchanan. It is thus that Nick is drawn into the captivating world of the super rich, their illusions, loves and deceits. As Nick bears witness, within and without the world he inhabits, he pens a tale of impossible love, incorruptible dreams and high-octane tragedy, and holds a mirror to our own modern times and struggles.

Grey's Anatomy: Season Nine
It's a year of bold new beginnings as your favorite doctors return to Seattle Grace for the biggest challenge of their lives. Experience every breathtaking moment with all 24 episodes of ABC's Grey's Anatomy: The Complete Ninth Season. The plane crash that took the life of Lexie Grey sends shockwaves throughout the hospital. But from the ashes, romance will rise, with each surgeon handling the loss in their own personal way. Meredith finds her groove in the operating room while Derek's hand injury forces him to focus on something other than surgery. And as Mark prepares to say goodbye, Alex falls for someone new, Cristina tries to rekindle the flame with Owen, and Bailey and Ben discover the perils of a long distance relationship. Relive the romance and excitement of ABC's unforgettable primetime drama with never-before-seen bonus features, in the sensational ninth season of Grey's Anatomy.

The Walking Dead: Season Three
In this uncertain world, Rick Grimes (Andrew Lincoln) and his band of survivors must not only fight the dead, but also face a whole new fear: the living. In this 16 episode season, the series Entertainment Weekly called the "greatest thriller ever produced for television", Rick and his fellow survivors continue to seek refuge in a desolate and post-apocalyptic world and soon discover that there are greater forces to fear than just the walking dead. The struggle to survive has never been so perilous. This season also introduces new characters, including the Governor (David Morrissey) and fan-favorite Michonne (Danai Gurira), along with her zombie pets.

Sons of Anarchy: Season Five
From creator Kurt Sutter comes the adrenaline-charged Sons of Anarchy, featuring exclusive "creator's cut" episodes and kicking into high gear with its biggest, most explosive season ever! As SAMCRO's new president, Jax is surrounded by ruthless enemies and gut-wrenching betrayal. With Gemma fighting for control of the family and a bloodthirsty Clay out for revenge, Jax defennds himself haunted by the sins of his past. Alliances are forged, friends are murdered, and loyalties are put to the ultimate test. Now, with the truth in sight, Jax must do whatever it takes to secure the legacy of brotherhood and protect his family-even if it costs him everything.

Elementary: Season One
ELEMENTARY, a contemporary take on the legendary detective Sherlock Holmes who investigates crimes in modern-day New York City as a consultant to the NYPD and is assisted by Joan Watson, a former surgeon, who is hired by Holmes' wealthy father to help keep the eccentric detective sober.