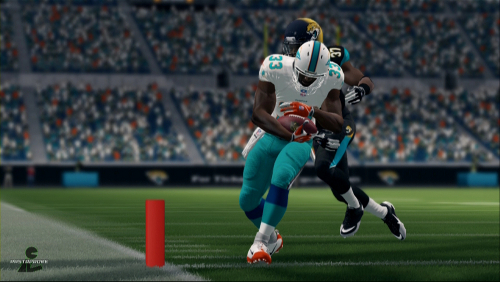 The first roster update for Madden NFL 25 arrived today with its main purpose to execute personnel moves, shuffle the depth charts, and reflect injuries since the original set was locked down about six weeks ago. An even bigger update will come mid-late next week after teams trim down to their final 53 man rosters this coming weekend. 
The update is not prompting upon loading up the game as has been the case in the past. Instead to download it head to the main menu and go to Customize – Manage Rosters – Update Rosters.
Though some players who have shined in the preseason receive ratings bumps this update isn't really intended for that purpose. Checking on a few the Seahawks' Christine Michael has risen from 70 to 72 and Jermaine Kearse moves from 64 to 69. Possibly opening the season as the starting QB for the Bills, undrafted rookie Jeff Tuel gets a single point to move up to 65. Vince Young has been added and is rated 71 overall. No drop in ratings for the Mark Sanchez or Tim Tebows of the world.
The update appears to be four or five days old however with transactions from those recent days unaccounted for. It does include the trade of John Moffitt to the Broncos which happened six days ago. Injured players have been moved down their respective team's depth charts. Though there is no new official roster for beginning a Connected Franchise any roster set can be imported including this one or those edited by other users and grabbed via the Madden Share feature.