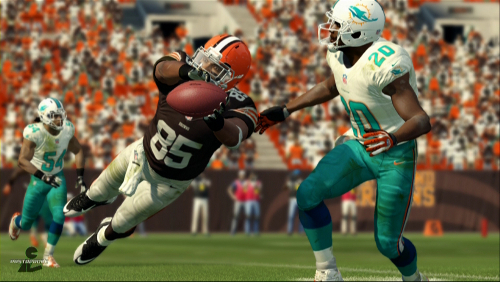 It's officially launch day for Madden NFL 25 – though the Season Ticket release has taken some wind out of the yearly "big event" sails – and response to the game has been all over the board. My full impressions and run-through of Franchise mode attempted to paint a picture of the experience the game provides through nearly 30 hours of playing. A Press Row Hangout with Rich Grisham, who's somewhat more positive on the game, was recorded to discuss it from all angles at even greater length.
Today Owen Good at Kotaku gave the game "No" for whether it should be played – a rarity in the Yes/No system that site uses and putting it in the company of the insulting MLB 2K13 effort. Meanwhile others like Mike Suszek at Joystiq feel its a big step forward in both gameplay and features. It's not often that there is so much disparity between the opinions of those who cover sports games year in and year out.
Overall the Metacritic score is in line with Madden 13 at 81% but that is mediocre at best for a game that carries the prestige of the NFL and is one of the top selling games every year.
Are the majority of reviewers seemingly satisfied because it's a good game that receives more scrutiny (whether fair or unfair) than others or because there is no other NFL game on the market? Look for a full panel podcast to go up on Friday discussing the review process, how Madden NFL 25 has fared so far, and how it alters perception of the upcoming next-gen releases.
So here then is another chance to voice your thoughts on this year's Madden. Leave your impressions and observations in the comments and vote in the polls below!