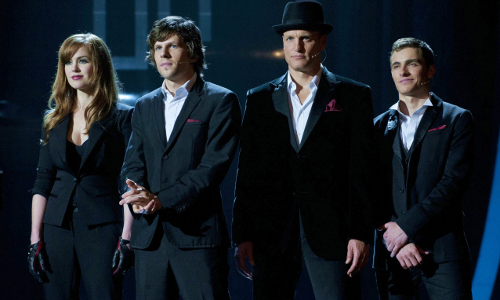 Now You See Me
In this visually spectacular blend of astonishing illusions and exhilarating action from director Louis Leterrier (Clash of the Titans), four talented magicians mesmerize an international audience with a series of bold and original heists, all the while pursuing a hidden agenda that has the FBI and Interpol scrambling to anticipate their next move.

Sharknado
When a freak hurricane swamps Los Angeles, thousands of sharks terrorize the waterlogged populace, and nature's deadliest killer rules sea, land, and air.

Empire State
After failing to get into the police academy, Chris Potamitis (Liam Hemsworth), settles for a security guard job with the EMPIRE STATE Armored Truck Company. Chris makes the mistake of mentioning the company's lax security to his best friend, Eddie (Michael Angarano), and is soon unwittingly drawn into an elaborate scheme to rob the abundant amounts of cash being stored there – resulting in the largest cash heist in U.S. History. As the stakes continue to rise, Chris and Eddie must outwit James Ransone (Dwayne "The Rock" Johnson), the veteran NYPD Detective that is hot on their trail, as well as the local crime bosses that want to know who pulled a job on their turf, or suffer the consequences.

Spartacus: War of the Damned
Gaius Claudius Glaber is dead. Many months have passed since his defeat, and the rebel army, led by Spartacus and his generals Crixus, Gannicus and Agron, continue to amass victories over Rome. With the rebel numbers swelling to thousands of freed slaves, Spartacus is more determined than ever to bring down the entire Roman Republic. Following Ashur's death, Naevia and Crixus fight as one. Together, the rebels engage in one bloody skirmish after another and prepare for the inevitable: a full out war with Rome. The Roman Senate turns to Marcus Crassus, a wealthy, strategic politician, for aid. He respects his opponent and refuses to make the same mistakes Glaber and his predecessors have. With a young and fiercely competitive Julius Caesar as an ally, Crassus is determined to crush Spartacus and his rebellion. The epic conclusion of a legendary journey, Spartacus: War of the Damned will unleash a battle unlike anything ever seen before.

The Office: Season Nine
Join the Scranton gang for the ninth and final season of the groundbreaking, Primetime Emmyr Award-winning hit series, The Office. Andy's back in charge as regional manager at Dunder Mifflin, but a journey of self-discovery leads to unexpected consequences. Jim lands the job of his dreams, but he and Pam must now adjust to a long-distance relationship. Meanwhile, Dwight steps up on the family farm; Darrel looks at new career opportunities; and Erin struggles with matters of the heart. And… everyone is excited to finally see the long awaited documentary about their lives in the office, an event nine years in the making. Developed for American Television by Primetime Emmyr Award winner Greg Daniels (Parks and Recreation, The Simpsons), watch all 23 final episodes back-to-back and uninterrupted in this must own 5-disc set, loaded with bonus features including rare cast audition tapes, deleted scenes, gag reel, and more!

The Vampire Diaries: Season Four
Senior year is finally here, and Elena should be having the time of her life. Instead, she faces her worst nightmare, struggling with the painful transformation from human to vampire. As Damon mentors Elena into a supernatural life, their repressed passions explode, causing Stefan to undertake a desperate quest to restore humanity to the girl he adores. But as Elena ruthlessly quenches her newfound thirst for blood, and her friends race to find a vampire cure based on clues inked onto Jeremy's flesh, the world around them falls prey to a host of sinister forces. Mystic Falls takes on vampire hunters, a hybrid rebellion and more in all 23 pulse-pounding Season Four episodes.

The League: Season Four
America's favorite pastime – talking smack to your buddies and making their lives miserable – is elevated to hilarious new heights in the uproarious Season Four of The League. This season kicks off with the arrival of Kevin and Jenny's baby…and the race to the Shiva Bowl is on! As Taco tangles with Chicago Bears great Jim McMahon and Andre's tailgating plans go horribly awry, the rest of the guys contend with dirty trades, circumcision debates, breast-a-lyzers and blackmail. Make these outrageously funny Season Four episodes of The League your number-one draft pick!

It's Always Sunny in Philadelphia: Season Eight
America's favorite back-stabbing bar owners are at it again in the outrageously over-the-top Season Eight of It's Always Sunny in Philadelphia! Join the gang at Paddy's Pub for more disagreements, divisiveness, debauchery and depravity as Charlie and Dee find love among Philadelphia's high society, and Dennis crashes his ex-wife's wedding. Frank loses his memory – and his mind – in a hopeless search for lost treasure, and insanity ensues when the whole gang winds up in therapy. Featuring an all-star cast and loaded to the hilt with hilariously inappropriate and unrated content, Season Eight rules the world!

Haven: Season Three
When FBI Agent Audrey Parker arrives in Haven, Maine on a routine case, she quickly finds herself involved in the return of the Troubles, a series of supernatural afflictions that have long cursed the seaside town and its residents. Joining the Haven Police Department, Audrey began to realize that it was fate – not luck – that brought her to this place and that she is inexplicably linked to the mysteries of Haven.

Person of Interest: Season Two
This crime thriller follows presumed-dead former CIA agent, John Reese, who teams up with mysterious billionaire Harold Finch to prevent violent crimes with high-tech surveillance and their own brand of vigilante justice. Reese's special training in covert operations appeals to Finch, a software genius who invented a program, aka "The Machine," that can identify people soon to be involved in violent crimes. With Finch missing — kidnapped in last season's finale cliffhanger — Reese enlists Detectives Joss Carter and Lionel Fusco to join the search for his friend on the second season premiere. Will Reese and his team find Finch before its too late? Or will Finch's kidnapper learn of The Machine's location first? Who will be the next person of interest? Find out in these 22 riveting episodes of Season Two.

Criminal Minds: Season Eight
CRIMINAL MINDS revolves around an elite team of FBI profilers who analyze the country's most twisted criminal minds, anticipating their next moves before they strike again. The Behavioral Analysis Unit's most prominent agent is David Rossi (Joe Mantegna), a founding member of the BAU, who returns to help the team solve new cases, while pursuing some unfinished business of his own. Each member brings his or her own area of expertise to the table as they pinpoint predators' motivations and identify their emotional triggers in the attempt to stop them.

Scandal: Season Two
Experience every breathless, jaw-dropping moment as Olivia Pope (Kerry Washington) and her team of "gladiators in suits" turn up the heat and raise the stakes in Scandal: The Complete Second Season. For Olivia Pope and Associates, cleaning up other people's messes takes a shattering personal toll. Season 2 blows the lid off Quinn's identity, exposes Huck's dark past, and uncovers Olivia's darkest secret – something so shocking and enormous that it threatens the entire nation. From boardrooms to bedrooms, relive all 22 episodes of Scandal's explosive second season – plus exclusive, never-before-seen bonus features in this riveting 5-disc set.