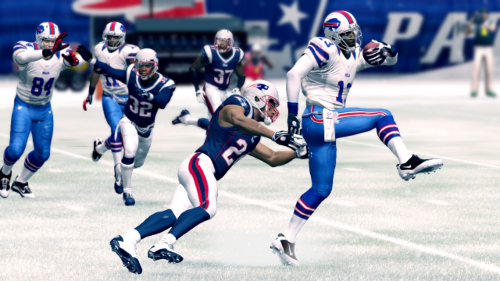 While EA Sports expected sales of Madden NFL 25 to fall short of those for Madden NFL 13 they did not anticipate the dramatic 37% drop that it turned out to be. Madden NFL 25 sold just over 1 million copies its first week on the market. That is down from 1.6 million that were moved for Madden NFL 13 in the same period and 1.9 million back with Madden NFL 10. 
There are a number of factors in play here. The most obvious is that next-gen versions of the game will be out in mid-November. That doesn't explain as many as 600K fewer people buying Madden at the launch on current-gen however – that difference which will be expanding before then isn't going to be made up this holiday season on the new systems.
Mediocre reviews and fairly poor word of mouth following both the demo and the actual release also have to be considered. Even the retailer deals which make trading up to Madden next-gen essentially free on the Xbox 360 to One, and packing in NFL Sunday Ticket for PC/mobile/tablets with the Anniversary Edition, were not enough to avoid such a drop-off though presumably they helped to stem off an every greater fall.
This is a concerning development for both EA and 2K Sports in the month ahead. FIFA is just about bulletproof at this point but a small decline would not be a surprise given the record breaking numbers it has been setting every year and the wait for the next-gen version being less than two months. NBA 2K14 is only separated by six weeks and most of that the season won't even be underway for. Promotion for the current-gen version of the game hasn't been as strong this year suggesting the company is going to ride its strong reputation to sell the 360/PS3 version and then put more effort into marketing the One/PS4 version where it faces competition in the way of NBA Live 14.
As to the Madden NFL 25 Anniversary Edition – which was exclusive to Amazon and only as of today became longer available – much was made of that being the most preordered sports game in the retailer's history. It may have actually done some harm however. Many people purchased it with the sole intent of using the Sunday Ticket code and then selling off the game. The second hand market was flooded with "used" copies of Madden on day one.