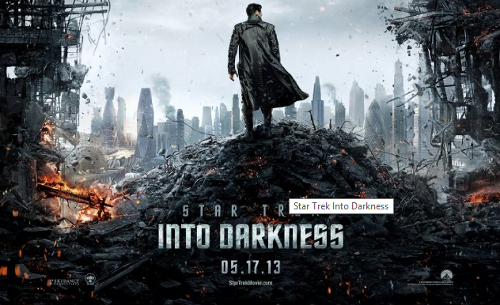 Star Trek Into Darkness
When the crew of the Enterprise is called back home, they find an unstoppable force of terror from within their own organization has detonated the fleet and everything it stands for, leaving our world in a state of crisis. With a personal score to settle, Captain Kirk leads a manhunt to a war-zone world to capture a one man weapon of mass destruction. As our heroes are propelled into an epic chess game of life and death, love will be challenged, friendships will be torn apart, and sacrifices must be made for the only family Kirk has left: his crew

World War Z (Instant Video Exclusive)
World War Z is the fast-paced, pulse-pounding epic of the potential last days of the human race. Former United Nations employee Gerry Lane (Brad Pitt) is called in to help stop the pandemic that has spread around the world.

Homeland: Season Two
Homeland makes its triumphant return after winning six Emmyr Awards, including Outstanding Lead Actress for Claire Danes, Outstanding Lead Actor for Damian Lewis and Outstanding Drama Series. Marine Sgt. Nicholas Brody (Lewis) is now a U.S. congressman, and former CIA agent Carrie Mathison (Danes) has returned to civilian life. But when a new and potentially devastating terrorist threat emerges, Brody and Carrie's lives become intertwined once again and they resume their delicate dance of suspicion, deceit and desire.

Big Bang Theory: Season Six
Whether on or above Earth, hilarity is outrageously universal in TV's most popular comedy featuring four forward-thinking but socially backward geniuses. Fun discoveries multiply: Leonard learns jealousy is bad for a relationship (with Penny) but science is good for seduction (of Penny). Howard finds life in the International Space Station life is no escape from terrestrial turmoil between his mom and his new wife Bernadette. Raj meets someone special who may be a good match, if he can keep her from fleeing mid-date. And then there's Sheldon. He learns what not to say after facing harassment charges or competing for tenure at work and how Dungeons & Dragons can be the icebreaker his relationship with Amy needs. For those who need laughter with scientific regularity, this 24-episode Season Six set of The Big Bang Theory will rock your cosmos.

Castle: Season Five
Together at last! After four seasons of sparring and heated banter, TV's dynamic crime-solving team finds romance in ABC's Castle: The Complete Fifth Season. Relive all 23 unforgettable episodes, complete with never-before-seen bonus features only available on DVD, in this spectacular five-disc set. Now that Castle and Beckett ("Caskett") have finally given into their true feelings for each other, how will it affect their work together? As they try to keep their new relationship under wraps from their co-workers, the unlikely duo must track down the murderer of Beckett's mother, find the perpetrator of a major conspiracy, and untangle a line of investigation that links Castle to a ritualistic killing. The action and passion heat up like never before in the brilliant fifth season of ABC's Castle!

Luther: Season Three
Idris Elba (The Wire) won a Golden Globe for his depiction of John Luther in this gripping, smart, and riveting psychological thriller from the BBC. In this new mini-series, a twisted fetishist is targeting young women in London. As Luther is called to another case, will the killer escape his grips? Luther faces an even bigger threat as members of his own team will stop at nothing to bring him down. And as a vigilante killer takes justice into his own hands, Luther questions his own sense of morality. Can he continue to walk the thin line between right and wrong, or has he finally met his match?

Supernatural: Season Eight
After a year apart, Sam and Dean are reunited in the Eighth Season premiere. After escaping from Purgatory with the help of a vampire named Benny, Dean heads straight for Sam, but the reunion isn't exactly everything he imagined it would be. Although Sam drops everything to join his brother, leaving the life he had grown accustomed to enjoy turns out to be harder than he imagined. In the meantime, Benny's help turns out to be more than what Dean bargained for. As the brothers struggle with their unexpected reunion, they make a shocking discovery that could lead them on a deeply personal mission to settle old scores. If only they could agree – is this a "family business" or isn't it? Discover the secrets and mysteries in these 23 must-watch episodes.