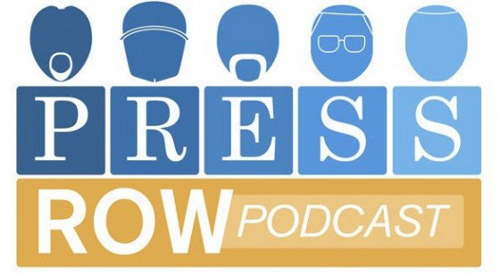 A recent special Press Row Podcast featured Rich Grisham interviewing two intriguing guests – Gus Ramsey of ESPN and former Madden NFL creative director (10-12) Ian Cummings. For anyone with interest in the inner-workings of Madden development the segment with Ian, which begins at the 49 minute mark, makes for an especially enlightening listen. 
The theme that runs through the discussion is that the Madden franchise has become so massive in scope – and is being constantly interfered with – that it's difficult to please everyone and often they end up satisfying no one completely. This is something I've talked about for years now as the exclusive NFL license forced EA to produce an inoffensive product that would have widespread appeal but wouldn't excel in any particular area. Rich and I also talked briefly about this interview on the most recent Press Row Hangout beginning at 58:38.
Some of the highlights from the podcast:
♦Size of the franchise causes problems and external forces influence decisions.
♦Agrees with some of the criticism of the game while he worked on it.
♦The series wasn't focused on being a simulation but tried to take it in that direction.
♦The external pressures from marketing and executives is a real factor.
♦Wasn't proud of Madden 11 because they caved to the pressure.
♦Thinks commentary and Franchise in-game presentation are huge misses in Madden 25.
♦The series lags behind the rest of the industry in areas like commentary and presentation.
♦Sees now how people can look at the game and say it's not much different from the last year.
♦Wanted Backbreaker physics and believes the Infinity Engine isn't good enough.
♦Why FIFA has been consistent in vision – never removing features – unlike Madden's approach.
♦Thinks the Precision Modifier is a gimmick that will be gone in two years.
♦Feels Madden is going in the right direction but would possibly prioritize differently.