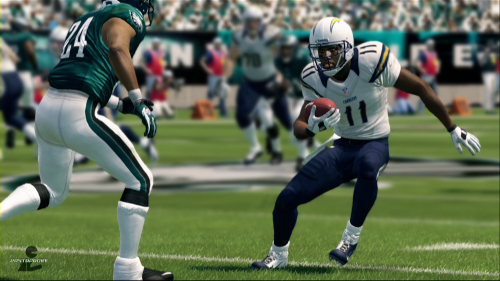 The roster update for Madden NFL 25 following week two of the season is available to download now on both the Xbox 360 and PS3. In order to get it from the main menu go to Customize – Manage Rosters – Update Rosters or start an online game. The changes were locked Wednesday morning so the trade of Trent Richardson to the Colts and signing of Willis McGahee by the Browns that followed will have to wait until next week.
Notable movement in this update includes Eddie Royal shooting up 5 points to 79, Ndamukong Suh gaining 2 to 95, Richard Sherman collecting 1 to hit 97, DeSean Jackson with 2 to 88, Dontari Poe up 2 to 81, D.J. Fluker up 2 to 79, Brent Grimes moving up 1 to 90, Cameron Jordan geting 3 to 87, and Robert Quinn rising again this time by 3 to 83.
Despite only two QBs playing worse this year based on ESPN's Total QBR Robert Griffin III somehow actually goes up to 89. Oneil Cousins (69) and David Wilson (75) fall for the second straight week, Eli Manning drops 1 to 90, and Mark Ingram goes down 2 to 77.
Check out the full details of the roster update here and leave your thoughts in the comments!