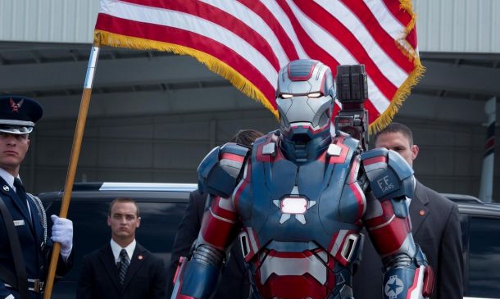 Iron Man 3
The studio that brought you Marvel's The Avengers unleashes the best Iron Man adventure yet with this must-own, global phenomenon starring Robert Downey Jr. and Gwyneth Paltrow. When Tony Stark/Iron Man finds his entire world reduced to rubble, he must use all his ingenuity to survive, destroy his enemy and somehow protect those he loves. But a soul-searching question haunts him: Does the man make the suit… or does the suit make the man? Featuring spectacular special effects, Marvel's Iron Man 3 explodes with exclusive Blu-ray content.

The Dark Knight Trilogy: Ultimate Collector's Edition
Batman Begins, The Dark Knight, and The Dark Knight Rises. The Blu-ray box set will include all three films, 48 page hardcover book with production stills and behind the scenes images, Mattel Hot Wheels (Bat, Batpod, Tumbler), and collectible art cards by Mondo (featuring Scarecrow, Joker, Bane, Harvey Dent, Ra's al Ghul).

Redemption
Jason Statham stars as an ex-Special Forces officer who comes home from the Afghan war a shattered man. Broke, homeless, lost in a haze of drugs and booze, Joseph Smith attempts to piece his life back together with the help of Sister Christina, a nun helping the poor. But while employed as a collector for a local mob boss, Joseph learns the identity of a friend's murderer and, bent on revenge, finds himself sinking deeper into a dark world of violence in this brutally powerful action-thriller.

I Spit on Your Grave 2
From the makers of the critically acclaimed 2010 Remake comes a new terrifying ordeal that will shock the world once again. Katie, a beautiful girl on her own in NY, is trying to make it in the cutthroat world of modeling. When Katie innocently accepts an offer to have new photos taken for her portfolio, the experience quickly turns into an unthinkable nightmare of rape, torture, and kidnapping. When a twist of fate finally frees her from her captors – beaten, battered, bruised, and broken, she will have to tap into the darkest places of the human psyche to not only survive her ordeal, but to ultimately find the strength to exact her brutal revenge.

Halloween: 35th Anniversary Edition
For this very special release, Anchor Bay and Trancas went back to the vaults to present this legendary terror classic as never before, including creating an all-new HD transfer personally supervised by the film's original cinematographer, Academy-Award nominee Dean Cundey. Halloween stars Jamie Lee Curtis in her debut role. Anyone who's ever watched a horror film in the last 35 years knows the story of Michael Myers, who as a child, butchered his sister with a kitchen knife. Committed to a mental institution and watched over by Dr. Loomis, he engineers his escape 15 years later, returning to his hometown of Haddonfield, Illinois on Halloween night to terrorize anyone who gets in his way, including babysitter Laurie Strode.

The Hangover Part III (Instant Video Exclusive)
When one of their own is kidnapped by an angry gangster, the Wolf Pack must track down Mr. Chow, who has escaped from prison and is on the lam.

Modern Family: Season Four
The laughs – and the awards – just keep on coming for the #1-rated Modern Family, winner of three consecutive Emmyr Awards for Outstanding Comedy Series! With Jay and Gloria's baby on the way and Haley going off to college, the entire Pritchett/Dunphy clan faces some major surprises as they bicker and bond over house-flipping headaches, unwanted play dates, and everything from hot-tempered hormones to in utero karaoke. Featuring a stellar array of guest stars including Matthew Broderick, Shelley Long and Elizabeth Banks, Season Four takes a heartfelt and laugh-out-loud hilarious look at what it means to be a Modern Family.

Hannibal: Season One
FBI Agent Will Graham (Hugh Dancy) hunts the most notorious serial killers. Graham is both gifted and cursed with an extraordinary ability: he can think like his prey, seeing what they see and feeling what they feel. What he doesn't know is that his new partner is the most notorious serial killer of all. While pursuing an especially troubling, cannibalistic murderer, Special Agent Jack Crawford (Laurence Fishburne) teams Graham with a highly respected psychiatrist – a man with a taste for the criminally minded: Dr. Hannibal Lecter (Mads Mikkelsen). Dr. Lecter tests Graham every step of the way, toying with him and playing a game all his own, while they work to unravel the mystery and catch the killer. Like only Lecter can, he twists Graham's mind, daring him to question everything he knows about others…and himself.

Doctor Who: Season Seven
Matt Smith returns as the Eleventh Doctor in thirteen blockbuster episodes plus two specials, each a brand new epic adventure with new monsters and familiar foes like you've never seen them before. In The Doctor, The Widow and The Wardrobe, a madcap caretaker greets evacuee Madge Arwell and her two children and leads them into a magical wintry world. Then, the first part of series seven sees the Ponds (Karen Gillan and Arthur Darvill) in their final voyage with The Doctor. They save a spaceship full of dinosaurs, don Stetsons in the Wild West and are even kidnapped by The Doctor's oldest foe. But when they arrive in Manhattan the Weeping Angels are waiting for them. Christmas brings The Doctor a new friend (Jenna-Louise Coleman) but how, where, and when will he meet her? And the final eight episodes see The Doctor and his new companion battle monsters on distant alien planets, become trapped in a Russian submarine with a deadly passenger, chase terrifying ghosts, and come face to face with an army of upgraded Cybermen, while The Doctor's oldest secret threatens to be revealed. Packed with extras, the complete seventh series is not to be missed.

South Park: Season 16
All fourteen episodes from South Park's legendary 16th season are jam-packed into this exclusive three-disc DVD set and 2-disc Blu-ray set. Join Cartman, Kyle, Stan and Kenny as they hunt down the mythical Jewpacabra, `sketti wrestle with reality stars, and go jackin' it in San Diego. Pile on never-before-seen deleted scenes and a healthy dose of cat breading, and you've got a box set that could just "raise the bar".

Hawaii Five-0: Season Three
HAWAII FIVE-0 is a contemporary take on the classic series about a new elite federalized task force whose mission is to wipe out the crime that washes up on the Islands' sun-drenched beaches.

2 Broke Girls: Season Two
Best friends Max (Kat Dennings) and Caroline (Beth Behrs) are still waiting tables in Brooklyn, but the future looks bright for their start-up business venture. There's a boost from a famous television personality's review of Max's cupcakes, a lucky break in real estate, and a surprise influx of cash, resulting in the grand opening of Max's Homemade Cupcakes! But success doesn't happen overnight. There are rat droppings to be dealt with. Plus ex-boyfriends and a new flame. Not to mention long nights packing a pastry gun. And that eviction notice. The girls' hearty humor and wicked sarcasm, diner pals Earl (Garrett Morris), Oleg (Jonathan Kite) and Han (Matthew Moy), and sexpot neighbor Sophie (Jennifer Coolidge) make working for a living worth laughing about in all 23 Season Two episodes of the smash hit 2 Broke Girls.