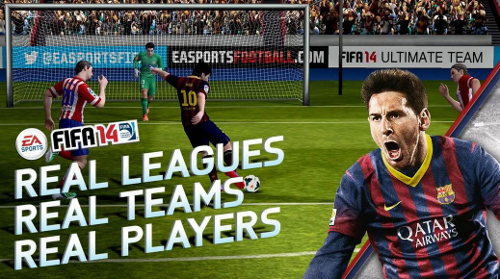 Today not only brought the console release of FIFA 14 but also versions for iOS (download through iTunes) and Android (download through Google Play) devices. The game is free-to-play like Madden NFL 25's mobile offering which means the focus is on the Ultimate Team aspect and in-app purchases. Controls are similar as it utilizes screen taps and swipes. Other features include Match Day, online multiplayer, penalty shootouts, and brilliant graphics for a phone/tablet game. $5 will unlock Kick Off, Tournament, and Manager modes. 
FEEL THE PASSION
Featuring 33 leagues, over 600 licensed teams, and more than 16,000 players. From the English Premier League and La Liga to the German Bundesliga and beyond. March toward glory in 34 authentic stadiums. Plus, for the first time on mobile, listen to commentaries in English, French, German, Italian and Spanish!
MATCH DAY MADNESS
EA SPORTS Football Club Match Day lets you follow the heartbeat of your favorite club. Play along with real-world fixtures from top leagues. Every injury, suspension, and change in team form is reflected in-game – keeping you connected wherever you are!
BUILD YOUR ULTIMATE TEAM
Earn and trade, or buy and sell FIFA players to create your own fantasy team. Choose your play style, formation, kits, and more. Compete in tournaments to earn coins, then spend them on new players and items to improve your team. Play for free or purchase packs. The choices are endless!
INUITIVE NEW TOUCH CONTROLS
Hold and drag players to move them around the field, tap to pass, swipe to shoot – and more! FIFA 14's new Touch Flow Controls put the excitement of playing the world's most popular sport at your fingertips – literally.
ROCK OUT – FIFA STYLE
Featuring a killer soundtrack with the hottest artists, from Empire of the Sun to Vampire Weekend. It's an epic playlist only FIFA can bring you!
WANT MORE?!
Upgrade your game to unlock three extra modes: Manager, Tournament, and Kick Off!