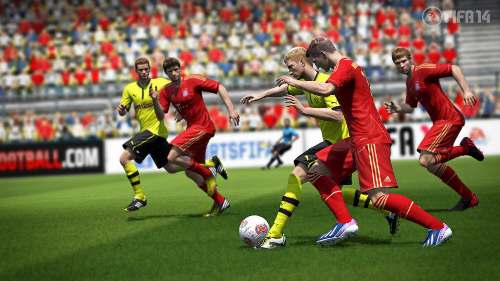 EA Sports released a relatively minor patch today for FIFA 14 that addresses some general stability issues and delivers a few fixes to game modes including the Skill Games and Creation Centre. Those items were identified early on allowing them to be included in a patch made available just a day after the game came out.
Work continues on other areas including gameplay for the next patch. EA addressed that in a statement today. 
Our commitment to improve FIFA 14 is on-going, and regular feedback from our fans helps us prioritize and identify future improvements. We wanted to take this opportunity to address a few more items that we continue to work towards. Firstly, we got some great feedback on gameplay during the demo and early access period, including:

• The effectiveness of headers from corner kicks and crosses.
• The effectiveness of finesse shots.
• The accuracy of lofted through-balls.
Reports of freezing incidents with the game are also being looked into by the company. Those started making waves over the weekend during the Season Ticket period and some users continue to be stymied by various freezes.