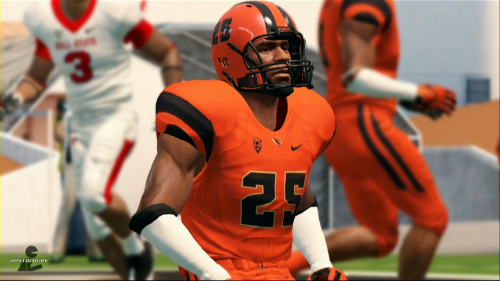 When the settlement to the likeness case was announced yesterday many wondered what it was about the agreement that resulted in the shuttering of EA Sports' college football series. With the dollar amount of the settlement now known it has become clear that it wasn't the money involved but rather the avoidance of future litigation and terms that made the series no longer a viable product going forward. 
Electronic Arts and the Collegiate Licensing Company will only pay out $40 million in the settlement. That is a shockingly low number when considering how monumental the case was but shows that the video game end was never the primary focus. To put that into perspective, FIFA 13 made $65 million in digital revenue through Ultimate Team mode in its first month alone of release last year. Like the football pricing case settlement (which cost the company $27 million) it's a drop in the bucket for EA particularly compared to the consequences that could have been faced by going to trial which may have cost them upwards of $1 billion.
For those who want to begrudge current and former athletes for being greedy none are getting rich off this settlement. After taking out estimated attorney's fees, and factoring in the likely class size, the average player that appeared in the NCAA Football series will receive about $200. Not every individual will receive the same amount – it will be mostly dependent on how many years they were represented in the games – but the $200 gives an idea of how paltry the settlement is for them. They're going after a much greater score from the NCAA with broadcasting and merchandising in mind.
It's important to remember that EA and the CLC settled with current and former collegiate athletes. Doing so would not protect them from future players suing them if they continued the series without making significant changes. The most likely result of the agreement was that EA would no longer provide any sort of player editing ability in the future and rosters would be completely randomized. The required alterations to protect themselves along with the loss of the NCAA, conferences, and many individual school licenses made for what would be an unappealing product that would not be able to meet consumer expectations and have no growth potential.