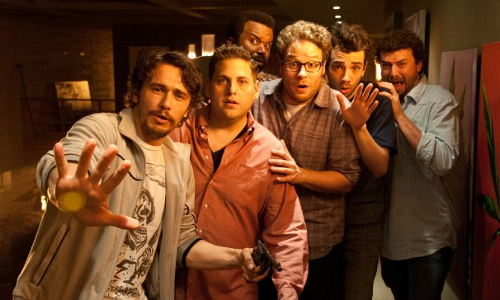 This is the End
While attending a party at James Franco's house, Seth Rogen, Jay Baruchel and many other celebrities are faced with the apocalypse.

The Croods
Join the first modern family as they embark on the journey of a lifetime across a spectacular and unforgettable landscape. When their cave is destroyed, everything the Croods have ever known is rocked by seismic shifts and generational clashes as they discover an incredible new world filled with fantastic creatures – and their world is changed forever. If they don't evolve, they'll be history!

Frozen Ground
Frozen Ground is inspired by the incredible true story that follows Alaskan State Trooper Jack Halcombe (Nicolas Cage) as he sets out to end the murderous rampage of Robert Hansen (John Cusack), a serial killer who has gone unnoticed for 13 years. As the bodies of street girls start to pile up in Anchorage, fear strikes a chord with the public. Risking his life, Halcombe goes on a personal manhunt to find the killer before the next body surfaces. When a seventeen year old escapee (Vanessa Hudgens) reveals key information about the case, Halcombe is finally on the trail of the killer. But will he catch him in time to save the next victim?

The Little Mermaid (Two-Disc Diamond Edition)
With unforgettable characters, thrilling adventures, soaring Academy Award-winning music (1989: Best Music, Original Score, and Best Music, Original Song, Under The Sea.), The Little Mermaid is one of the most celebrated animated films of all time. Now spectacularly transformed for the first time on Blu-ray with digitally restored picture and brilliant high-definition sound! Venture under the sea where Ariel, a free-spirited mermaid princess, longs to be part of the human world. After bravely striking a bargain with Ursula, a sneaky sea witch, Ariel embarks on the adventure of a lifetime. With Flounder and Sebastian at her side, Ariel will need all of her courage and determination to make things right in both her worlds.

The Wizard of Oz: 75th Anniversary Edition
The magic of M-G-M's wonderfully colorful and unique fantasy has melted hearts for more than seven decades with its indelible melodies and transcendent themes of family, home and the courage to pursue dreams. To celebrate the beloved movie's 75th anniversary, Warner Bros. Home Entertainment has brought The Wizard of Oz into the present and beyond with a brand new kind of magic: a stunning 3D Blu-ray.

Fright Night 2: New Blood
By day Gerri Dandridge is a sexy professor, but by night she transforms into a real-life vampire with an unquenchable thirst for human blood. So when a group of high school students travel abroad to study in Romania, they find themselves ensnared in her chilling web of lust and terror. Charlie and "Evil" Ed must stop Gerri from drinking and bathing in the blood of a "new moon virgin," which just so happens to be Charlie's ex-girlfriend, Amy. They enlist help from Peter Vincent, the vampire hunting host of a reality show called "Fright Night," to drive a stake through Gerri's plan and save Amy from a fate far worse than death.

North America
North America: where civilization collides with untamed wilderness. Just feet beyond our own back yards rages a spectacle we rarely see. Join us as we step into this hidden world teaming with life – across impossible mountains and endless deserts. Dive into unexplored forests and crash into rugged coasts. Unforgiving, brutal, yet achingly beautiful. This vast continent offers boundless rewards for those brave enough to take on this land – and call her home.

How I Met Your Mother: Season Eight
In the uproarious Eighth Season of How I Met Your Mother, the arrival of baby Marvin reminds Marshall and Lily of things they need, like sleep, better jobs and sex! Meanwhile Barney uses his playbook to win over Robin, but not her scary dad. Marshall tries to right a wrong in court in hopes of becoming a judge, and Robin's past is judged. Ted designs an amazing building, and also has designs on Barney's half-sister! But does he meet his future wife? Check out all 23 hilarious, legend – wait for it – dary 23 Season 8 episodes, featuring guest stars like Paul Shaffer, Ralph Macchio and Kyle MacLachlan!

Beauty and the Beast: Season One
Homicide detective Catherine "Cat" Chandler teams with the mysterious Dr. Vincent Keller, the man who saved her life years earlier and who has a terrible secret – when he is enraged, he becomes a terrifying beast, unable to control his super-strength and heightened senses. They develop a complex relationship, understanding that their connection is extremely dangerous for both of them.

Glee: Season Four
Glee: The Complete Fourth Season Blu-ray Season 4 of the exhilarating Emmyr-winning series finds Rachel and Kurt in New York City, Finn with a surprising new career, Will and Emma at a crossroads and Sue confronting a shocking situation! Meanwhile, tension mounts as the kids in New Directions head for Regionals, facing new challenges. Featuring exciting new cast members, electrifying musical numbers, and superstar guests like Sarah Jessica Parker, Kate Hudson and Whoopi Goldberg.

New Girl: Season Two
The romantic tension between Jess (Emmyr Nominee Zooey Deschanel) and Nick (Jake Johnson) escalates in the hilarious, quirky second season of New Girl – but will they ever hook up? Meanwhile, Schmidt fails to be hip, Winston isn't "prepared" for a hot date, and Nick faces a death in his dysfunctional family. While Jess does her best to replace Cece on a modeling job and a drunk Elvis impersonator at a funeral, Schmidt and Winston hope to rearrange Cece's arranged marriage. Relive all 25 outrageous episodes featuring guest stars like Jamie Lee Curtis, Rob Reiner and Dennis Farina, and enjoy fun bonus material – including the extended version of the hugely popular Virgins episode – only available on the DVD.