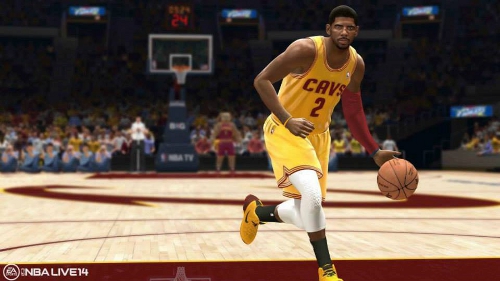 The one advantage that EA Sports held over the competition in regards to NBA Live 14 was an ability to promote the game and their best interests early. The company did not have a current-gen offering to be concerned with overshadowing and they would only benefit by pushing more consumers to wait for next-gen. That they let this window pass without doing much of anything is another bad sign that will only increase skepticism until they prove they have a product on their hands that is worthy of consideration by consumers. 
While there is a decent amount of info on NBA Live 14 – the Ignite Engine, BounceTek dribbling system, signature dribble moves for 50+ players, "Rising Star" career mode, roster updates within an hour after every game ends, and the inclusion of legends – they haven't shown anything to get consumers to buy into their talk yet. No one can be faulted for that considering the hype they attempted to build leading up to the cancellations of NBA Elite 11 and Live 13.
The one trailer they put out isn't nearly enough especially when they couldn't even keep to the schedule that had been provided to NBA.com for the next one. 5-on-5 gameplay footage was said to be coming by the end of summer and they missed that self-imposed deadline. It's also somewhat alarming that EA has a press event today where they are showing off next-gen Madden NFL 25 and FIFA 14 but did not confirm the presence of NBA Live 14. If it turns out not to be there it would be the most damning development yet. (Update: It was not at the event).
Missing the launch date for the PlayStation 4 is incredibly damaging to the chances of Live gaining traction. The PS4 is expected to be the higher selling of the two next-gen systems at least for launch day and through the holidays. Four days may not seem like much but it's significant as it removes any choice being made on an NBA game for those critical days. People picking up their console and choosing games to go along with it might wait for one they are really anticipating but that isn't going to be Live when NBA 2K14 is right there for the taking already.
All this being said 2K Sports hasn't offered anything of value on NBA 2K14 yet either – but they have good reason for that as they had to prop up their current-gen version as being a $60 value before moving on to the later release. They also don't have to convince anyone that they'll be bringing a quality offering to the market. They can fall back on reputation and name recognition which is largely how they sold the current-gen game suggesting they have shifted their development budget and marketing plans more towards next-gen. That would only squeeze EA Sports into an even tougher spot.
There is still time for EA to properly show off NBA Live 14 and change the narrative surrounding it. The way they have handled things so far however suggests they may not be confident in the product and the opportunity has become more limited now that the competition won't need to hold back any longer.