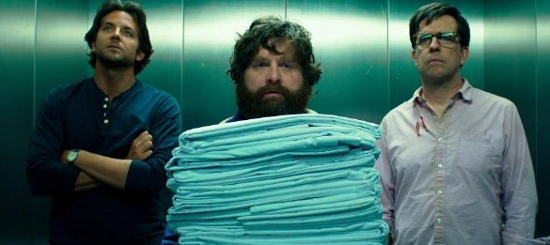 The Hangover Part III
The Wolfpack gets together for one last time in Las Vegas – the city where it all began. With no wedding and no bachelor party, what could possibly go wrong? Yet all hell breaks loose as the city crumbles in mayhem. Hangover Part III is the epic finale to the hilarious Hangover trilogy.

After Earth
A crash landing leaves Kitai Raige and his father Cypher stranded on Earth, a millennium after events forced humanity's escape. With Cypher injured, Kitai must embark on a perilous journey to signal for help.

The Purge
A family is held hostage for harboring the target of a murderous syndicate during the Purge, a 12-hour period in which any and all crime is legalized.

Much Ado About Nothing
Joss Whedon's sexy and contemporary spin on Shakespeare's classic comedy about the story of sparring lovers Beatrice and Benedick offers a sensual, tragic and occasionally absurd view of the intricate game that is love.

Chucky: The Complete Collection
Set a play date with Chucky as all six movies come together for the first time in the chilling Chucky: The Complete Collection. The killer doll torments his original victim, young Andy Barclay, in Child's Play, Child's Play 2 and Child's Play 3. Then the ruthless redhead teams up with his dream doll, Tiffany (Jennifer Tilly), in Bride of Chucky and Seed of Chucky. Chucky is back again in Curse of Chucky to terrorize a family with whom he shares a mysterious connection. Oozing with hours of bonus materials, Chucky: The Complete Collection is a thrilling, chilling, campy, must-own set. Wanna play?

Star Wars Trilogy: Episodes I-III
Star Wars: The Prequel Trilogy on Blu-ray+DVD Combo feature Star Wars Episodes I-III.

Star Wars Trilogy: Episodes IV-VI
Star Wars: The Original Trilogy on Blu-ray+DVD Combo feature Star Wars Episodes IV-VI.

Batman: The Dark Knight Returns
It is ten years after an aging Batman has retired, and Gotham City has sunk deeper into decadence and lawlessness. Now, when his city needs him most, the Dark Knight returns in a blaze of glory. Joined by Carrie Kelly, a teenage female Robin, Batman takes to the streets to end the threat of the mutant gangs that have overrun the city. And after facing off against his two greatest enemies, the Joker and Two-Face, for the final time, Batman finds himself in mortal combat with his former ally, Superman, in a battle that only one of them will survive.

Bones: Season Eight
Unearth even more thrills from Bones Season 8 with all-new content only available here! Finally cleared of wrongdoing, Bones reunites with Booth (David Boreanaz) and the squints. Although the team solves some of their most challenging cases yet, madman Christopher Pelant continues his murderous rampage – inching closer to Bones and Booth daily. From solving the mystery of a roller derby darling's demise to uncovering a previously unrecognized 9/11 hero to stopping a pandemic, Bones and the team make one remarkable discovery after another. Meanwhile, as if the challenges Booth faces with parenthood and his unique relationship with Bones aren't enough, his mother shows up after a 24-year absence, and there is shocking news about some of his colleagues. Relive all 26 killer episodes!

White Collar: Season Four
Matt Bomer excels again as charming con man Neal Caffrey in another engaging season of crime solving and high-stakes heists! Facing the uncertain future of his partnership with FBI Agent Peter Burke (Tim DeKay), Neal sheds his tracking anklet and disappears into thin air. But the Feds aren't done with him and Neal is hardly ready for retirement. Back in action, Neal ponders the future as Season Four delves deeper into the stunning secrets of his mysterious past. Packed with seduction, intrigue, and more of everything you love about TV's sexiest show, White Collar will have you glued to the edge of your seat. Let the games begin!

Psych: Season Seven
Killer secrets are kept, broken and dramatically revealed in the seventh sensational season of Psych. It's business as unusual for "psychic" crime fighter Shawn Spencer (James Roday) and best pal Burton "Gus" Guster (Dul' Hill) as they track down Bigfoot, go undercover as wacky radio DJs, and solve the ultimate murder mystery. And, Gus finally gets the girl. Catch every episode back-to-back and uninterrupted of the laugh-out-loud whodunit series that features stellar guest stars including Garrett Morris (2 Broke Girls), Lesley Ann Warren (In Plain Sight), Jeffrey Tambor (Arrested Development), and Christopher Lloyd (Back to the Future).

The Middle: Season Three
In Season Three of The Middle, the Hecks tackle the beginning of a new school year, a not-so-relaxing Thanksgiving, and an unexpected wedding. In the midst of it all, Frankie (Emmy(R) winner Patricia Heaton) and Mike Heck (Neil Flynn) attempt to raise their kids with love and a solid Midwestern practicality. Axl, the eldest, is a jock slacker who eats the family out of house and home and walks around in his underwear. Then there's Sue, their extraordinarily ordinary teen daughter who fails at just about everything she tries with great gusto. Finally, there's Brick, their quirky fourth-grader, who reads constantly, whispers to himself and unapologetically marches to the beat of his own drummer.

90210: Season Five
The fifth and final season of "90210" follows the group from West Beverly kids as they navigate life after high school. Their journey into adulthood will find them heading in different directions while trying to keep the same closeness that worked so well for them in high school. Coming from a world of glamour and privilege, with endless possibilities in front of them, anything can happen. All in all, it's just another day in the world's most famous zip code.

American Horror Story: Asylum
Step inside a madhouse of horror and experience the chilling new incarnation of TV's most daringly provocative series. The sins of the past haunt the present at the notorious Briarcliff home for the criminally insane, ruled with an iron fist by Sister Jude. Forbidden desire and terrifying evil lurk around every corner…from alien abduction to demonic possession to a skin-wearing psychopath known as Bloody Face. Emmy winner JESSICA LANGE leads an exceptional ensemble cast, including ZACHARY QUINTO, JAMES CROMWELL and SARAH PAULSON.